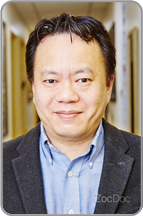 There is a wide range of factors that can cause blotchy skin, from weather to heredity to allergies and various environmental factors.
Albertson, NY (PRWEB) February 02, 2016
Millions of people suffer from blotchy skin. Red, white, or dark patches may be irritated or itchy and may appear anywhere on the body but are most common – and most visible – on the arms, neck, and face.
"The first thing to do in treating blotchy skin is to figure out what is causing it," says Dr. Derek V. Chan of Advanced Dermatology, P.C. "There is a wide range of factors that can cause blotchy skin, from weather to heredity to allergies and various environmental factors. While some of these causes are beyond your control, others can be managed and the blotchiness prevented or treated when it occurs."
Weather: Several different weather extremes can cause redness and rashes. High temperatures can cause the skin to break out in a heat rash. The combination of cold temperatures, dryness and wind can cause the redness and blotchiness of chapped skin, particularly on exposed areas on the face. "The best remedies for weather-related redness are sunscreen with an SPF of 30 or more, sunglasses, a hat, and moisturizer," says Dr. Chan. "These will also prevent sunburn and the most common signs of aging skin – dark spots and sagging caused by years of sun exposure."
A recent review in the December 2015 issue of the Journal of Drugs and Dermatology also suggested that the use of oral multicomponent dietary supplements may be useful in helping with the appearance of photo-aged skin. Additionally, commercially available extracts derived from Polypodium leucotomos, a tropical fern, may help maintain a youthful appearance by helping to prevent further oxidation and photo-aging of the skin. Before starting any of these supplements, Dr. Chan notes that "consultation with a dermatologist should be made before starting any supplement therapy, and more confirmatory research needs to be done to more conclusively demonstrate that oral dietary supplements help skin appearance."
Allergies: Springtime allergens in the air can trigger red, irritated skin in susceptible people. Animal dander in the environment – even when there's no cat or dog present – can also cause red, blotchy hives, An anti-histamine may be effective in controlling allergic reactions and itchy skin.
Heredity: People with fair skin are more prone to blotchy skin and uneven skin tones than people with darker skin. Hormonal changes in women, particularly those associated with pregnancy, can also cause red or dark patches. Skin problems caused by genetic predisposition and hormonal changes are harder to prevent but a gentle moisturizer may help.
Irritating Products: Harsh soaps, fragranced lotions, rough exfoliators, and chemical peels can leave the skin inflamed, dry and blotchy. Use a gentle, moisturizing cleanser that doesn't leave the skin tight, dry or flaky. Avoid gritty scrubs and products that contain fragrance or antiseptic. "The bottom line for cleansing is to avoid overdoing it," says Dr. Chan. "Don't over-wash, over-scrub, or over-dry and don't use harsh, drying products on the skin. Look for soaps and cleansers that are fragrance-free. Some 'unscented' products actually have fragrance or perfume to mask to odor of the other chemicals, so patients should look for products without fragrance or perfume if their skin is prone to getting irritated."
Stress: Red patches on the face, neck and upper chest are sometimes a reaction to stress or tension. When the stress eases, the skin generally clears or the redness can be reduced with a histamine-blocking lotion. "People who are troubled by frequent instances of red and blotchy skin should start by seeing a dermatologist to determine the cause," says Dr. Chan. "Skin conditions such as rosacea, eczema, and psoriasis can all cause red or blotchy skin and have different triggers and factors that aggravate them as well as different treatments to get them under control. But whatever the cause, the basic advice for red, blotchy skin starts with limiting exposure to weather extremes, never going out without sunscreen, and treating your skin gently."
Advanced Dermatology P.C. and the Center for Laser and Cosmetic Surgery (New York & New Jersey) is one of the leading dermatology centers in the nation, offering highly experienced physicians in the fields of cosmetic and laser dermatology as well as plastic surgery and state-of-the-art medical technologies. http://www.advanceddermatologypc.com.
Derek V. Chan, M.D., Ph.D, has particular interests in psoriasis, cutaneous neoplasms, and lasers/cosmetic dermatology.