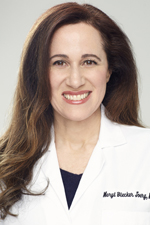 Sifting through the truths and misconceptions about the dozens of facial cleansers on the shelves is key to cleaning your face effectively.
New York, NY (PRWEB) June 15, 2016
Washing our faces should be one of the least complicated things most adults do all day. But the huge and confusing array of facial soaps available to fulfill this need has turned a simple task into a breakout-inducing dilemma, according to Meryl Joerg, MD, of Advanced Dermatology P.C.
"Sifting through the truths and misconceptions about the dozens of facial cleansers on the shelves is key to cleaning your face effectively," Dr. Joerg says. "But the right time to think about it isn't first thing in the morning or last thing at night, when most people wash their faces. We should be clear-eyed about the products out there if we hope to pick the right one to leave our complexions clean and clear."
Normal, oily, dry or combination? Determining your skin type
How to pinpoint which facial soap is right for you among so many choices? The answer lies in knowing your skin type – whether normal, oily, dry or combination. Dr. Joerg explains the differences:

Normal skin rarely experiences breakouts or dry patches, and has few imperfections.
"It's the lucky individual that can claim normal skin," she notes. "Their skin isn't much impacted by changes in the weather and generally looks healthy and radiant, with few enlarged pores."
Oily skin, particularly in younger adults, carries an ever-present "acne alert," Dr. Joerg says. Typically caused by overactive sebaceous glands on the face that produce oil, oily skin can feel dirtier than it really is and the oil can clog pores, causing acne.
"There is an upside, however," she adds. "Oily skin is less prone to wrinkling over the long haul."
Dry skin can be problematic because it's always trying to assert itself – peeling, sometimes red, and looking flaky and dehydrated, Dr. Joerg says. While low air humidity can contribute to dry skin, those with chronic cases often produce less natural oil to lubricate their facial skin.
Combination skin is self-explanatory: The face includes various "zones," some of which are oily, some dry, and others normal.
"Many people have heard of the T-zone, where the forehead and nose area tend toward oiliness while the rest of the face doesn't," Dr. Joerg explains. "That's the epitome of combination skin."
There's one myth about facial cleansing Dr. Joerg can readily dispel regardless of skin type: More washing isn't necessarily better. "It's important to keep skin cleansed, particularly in the mornings and evenings," she says, "but washing more often than that, or extremely vigorously, can irritate many skin types."
Tips for what facial cleansers to use
Once you've figured out your skin type, you can more easily select facial cleansers that will keep your skin squeaky clean and in tip-top shape. Dr. Joerg offers these tips for what to look for on soap or cleanser labels:
Normal skin types can use a wide variety of cleansers. "But look for those containing antioxidants, hydroxy acids, botanical anti-inflammatory agents and retinol, all of which will slough off dead skin and contribute to a younger-looking complexion," she says.
Oily skin types need a "de-greasing" agent such as salicylic acid to help exfoliate the skin and reduce breakouts. Benzoyl Peroxide washes help to decrease bacterial counts in skin and are drying thus helping to control acne," she says. "Also, those with oily skin should avoid products containing natural or synthetic oils, perfumes or additives."
Dry skin types should use creamy, moisturizing facial cleansers that soothe flaky, irritated skin. "Look for products containing glycerin and hyaluronic acid, which hydrate the skins." She suggests. "And avoid foam cleansers, which tend to dry out the skin."
Combination skin types can bridge their dual needs by washing with a gentle, water-based cleanser that doesn't leave skin feeling dry or tight. "Most of these patients benefit from gel-based or mildly foaming cleansers," Dr. Joerg says.
The bottom line? "You can improve the texture of your skin and avoid any potential negative effects from facial soaps by knowing your skin type and the ingredients best for it," says Dr. Joerg. "As with most things, knowledge is key to acting in your own best interests. Your face will thank you."
Advanced Dermatology P.C. and the Center for Laser and Cosmetic Surgery (New York & New Jersey) is one of the leading dermatology centers in the nation, offering highly experienced physicians in the fields of cosmetic and laser dermatology as well as plastic surgery and state-of-the-art medical technologies. http://www.advanceddermatologypc.com.
Meryl Joerg, M.D., is board certified and specializes in dermatology at Advanced Dermatology P.C.