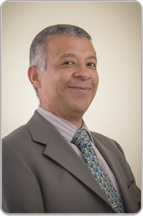 Characterized by increased pigmentation on the nose, cheeks or jawline, melasma is almost entirely a women's affliction, with 90% of those affected being females between the ages of 20 and 50.
New York, NY (PRWEB) November 08, 2016
Women's reproductive years can bring about changes on both the body and the complexion, including stubborn brown, tan or grayish skin patches known as melasma, according to Romeo Morales, MD, of Advanced Dermatology P.C. Characterized by increased pigmentation on the nose, cheeks or jawline, melasma is almost entirely a women's affliction, with 90% of those affected being females between the ages of 20 and 50. Triggered by factors such as hormones, genetic susceptibility and sun exposure, melasma impacts an estimated 6 million women in the United States, according to the American Academy of Dermatology.
The condition is often called the "mask of pregnancy" because its resulting dark areas on the face are even more commonplace while women are expecting. Those with darker skin, such as people of Latin, African, Asian, Indian, Middle Eastern or Mediterranean descent, are also disproportionately affected.
"Most of those coping with melasma have a history of daily or regular sun exposure, which is perhaps the biggest contributing factor," says Dr. Morales, who is also a Clinical Instructor and Dermatology Attending at Mount Sinai School of Medicine. "Fortunately, several treatments can lighten both the skin and the emotional weight of dealing with this condition."
Tips: How can melasma be effectively treated?
Diagnosing melasma is usually pretty straightforward, with a dermatologist able to tell what it is just by looking at the skin. If there's any question as to how deeply the melasma pigment may penetrate the skin, a dermatologist may look at patches under a device known as a Wood's lamp.
Sometimes melasma can disappear on its own, particularly when the trigger – excessive sun exposure, pregnancy or oral contraceptive use – ends. But those who want to take a more active role in reducing the spots' prominence can try these treatments:
Hydroquinone: Often tried before other treatments, hydroquinone comes in cream, lotion, gel or liquid form and works by lightening the skin. Higher-strength hydroquinone, available only by prescription, tends to be more effective than lower-strength versions available over the counter, Dr. Morales says.
Tretinoin and corticosteroids: To enhance the effects of hydroquinone, a second medication containing these ingredients may be prescribed. Some versions contain three compounds – hydroquinone, tretinoin and a corticosteroid – which are called a "triple cream."
Other topical medications: Also applied to the skin, these may include the skin-lighteners azelaic acid or kojic acid.
In-office procedures: Chemical peels, microdermabrasion, or dermabrasion procedures may be used if topical treatments don't get rid of melasma. These treatments, which are done in a dermatologist's office, slough off the top layers of the skin to lighten it.
Preventing melasma requires vigilance
Unfortunately, treating melasma isn't a "once-and-done" proposition, where the problem is permanently solved. That's why it's imperative to keep up efforts to prevent melasma from recurring, Dr. Morales says. "This requires sensible vigilance," he adds, "since melasma will simply come back if you don't pay attention to sun protection and other prevention measures." Melasma prevention tactics include:
Daily sunscreen use: Since sun exposure is the main risk factor for developing melasma, daily sunscreen use is a must. Choose a sunscreen with broad-spectrum protection with an SPF of 30 or higher. Don't forget to wear it even on cloudy days and re-apply after swimming or sweating.
Wide-brimmed hats: Since research indicates sunscreen alone doesn't provide all the protection needed to keep melasma at bay, wear a broad-brimmed hat when outdoors. These hats keep rays off vulnerable areas of the face. "Stay in the shade whenever possible," Dr. Morales advises.
Gentle skin care products: Cleansers that sting, burn or irritate the skin can worsen melasma, so use gentle products.
Skipping waxing: Hair-removal efforts on the face need to veer away from waxing, since this can inflame the skin and exacerbate melasma.
"Given the stubborn nature of melasma it's important to follow your dermatologist's advice regarding treatment and prevention," Dr. Morales says. "The good news is that with proper treatment and prevention, most people see terrific results in keeping their skin clear of melasma."
Romeo Morales, M.D., F.A.A.D., specializes in many areas of medical and surgical dermatology with a particular interest in skin cancer screening and prevention.
Advanced Dermatology P.C. and the Center for Laser and Cosmetic Surgery (New York & New Jersey) is one of the leading dermatology centers in the nation with 18 locations in New York and New Jersey, offering highly experienced physicians in the fields of cosmetic and laser dermatology as well as plastic surgery and state-of-the-art medical technologies. http://www.advanceddermatologypc.com.