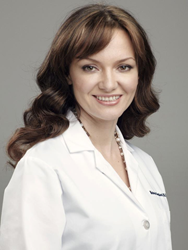 Rosacea can affect anyone, but fair-skinned people whose skin flushes or blushes readily are considered more susceptible.
New York, NY (PRWEB) September 20, 2016
What skin disorder resembles acne but can prove disruptive for far longer than a few zits? Rosacea, which causes redness on the cheeks, forehead, nose or chin, can be a chronic menace, but fortunately several treatments can tame the upsetting condition, according to Valerie Goldburt, MD, PhD, of Advanced Dermatology P.C.
Pronounced "roh-ZAY-sha" and affecting about 16 million people, rosacea typically develops in affected individuals after teenage acne has long ceased, according to the National Rosacea Society. In fact, most don't observe its effects – which can also include bumpy skin, visible blood vessels and even bloodshot eyes or a swollen nose – until sometime after age 30.
"Rosacea can affect anyone, but fair-skinned people whose skin flushes or blushes readily are considered more susceptible," says Dr. Goldburt, who is board-certified in dermatology. "But it can be a puzzling and frustrating condition – there one moment and seemingly gone the next, or with symptoms ranging from mild to severe."
How can I tell if I have rosacea?
Rosacea tends to be a poorly understood condition and many of those who have it don't even know it, says Dr. Goldburt, noting that a National Rosacea Society survey found that 95% of rosacea patients knew little or nothing about the condition before they were diagnosed.
Given the lack of awareness about rosacea, how can someone tell they have it? Dr. Goldburt highlights its 4 primary and 7 secondary signs. Those with rosacea will have at least 1 primary sign and any combination of secondary signs.
Primary signs include:

Flushing: Sometimes the earliest sign of rosacea, flushing can come and go.
Persistent redness: This ruddiness may look like a sunburn that won't go away.
Bumps and pimples: Sometimes resembling acne, these bumps may be filled with pus.
Visible blood vessels: Small blood vessels make a bigger impact when they become visible in clusters on the skin.
Secondary signs include:

Eye irritation: Known as ocular rosacea, eyes can become watery, bloodshot, or consist of red and swollen eyelids.
Skin burning or stinging: Itching can accompany these sensations.
Dryness: Skin looks rough.
Plaques: Raised red patches may develop without any change to surrounding skin.
Thickened skin: Excess tissue, typically on the nose, can emerge.
Swelling: Facial edema can occur independently or with other symptoms.
Symptoms beyond the face: Rosacea can extend to the neck, chest, scalp or ears as well.
"If you notice at least one of the primary signs along with any of the secondary signs, it's likely you have rosacea and it's wise to be evaluated by a dermatologist," Dr. Goldburt says. "Don't spend any more time guessing – get it figured out."
Tips on rosacea treatment
While no cure has yet been found for rosacea, several treatments can control or even reverse its presence. These treatments must be tailored for each person with rosacea since signs and symptoms can vary so dramatically, Dr. Goldburt notes.
Treatments include:

Oral and topical medications to treat rosacea bumps, pimples and redness, many of which include antibiotics.
Intense pulsed light therapy to eradicate visible blood vessels, lessen redness and correct enlargement of the nose.
Oral antibiotics to tackle ocular rosacea, the redness and irritation of the eyes.
Additionally, people with rosacea need to treat their skin very gently, Dr. Goldburt notes. They should only use mild facial cleansers and shouldn't tug, pull or scrub their faces when washing. Daily sunscreen application is also recommended.
"Using the latest treatments and taking scrupulous care of their skin, many rosacea patients don't appear any different than others without the condition," Dr. Goldburt says. "While sometimes maddening, rosacea doesn't usually get the last word on your complexion."
Valerie Goldburt, MD, PhD, is board certified and specializes in dermatology at Advanced Dermatology P.C.
Advanced Dermatology P.C. and the Center for Laser and Cosmetic Surgery (New York & New Jersey) is one of the leading dermatology centers in the nation, offering highly experienced physicians in the fields of cosmetic and laser dermatology as well as plastic surgery and state-of-the-art medical technologies. http://www.advanceddermatologypc.com.