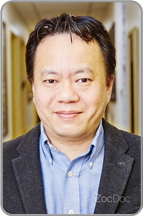 Skin tags are non-cancerous and won't spread. But that doesn't make these growths any more palatable to those who develop them, who are usually at midlife or older.
Albertson, NY (PRWEB) December 02, 2016
December 2016 – Wondering what that little extra piece of skin is hanging off your neck, eyelid, underarm or other body area? Not to worry – it's just a skin tag, a harmless flap of skin that can be easily treated if it's becoming unsightly, says dermatologist Derek V. Chan, MD, PhD, of Advanced Dermatology P.C.
Commonly occurring in creases or folds in skin, or where skin continually rubs against clothing, skin tags are non-cancerous and won't spread, Dr. Chan explains. But that doesn't make these growths any more palatable to those who develop them, who are usually at midlife or older. Skin tags can be smooth or irregular in appearance, but are typically raised from the skin's surface and are flesh-colored or slightly brownish. At first, they may appear quite small, like a pinhead bump; some are raised on fleshy stalks.
"Some people may have had skin tags that they didn't even notice because they rubbed off or fell off painlessly," says Dr. Chan. "But most skin tags don't fall off on their own. Fortunately, there are several ways to get rid of them quickly and efficiently."
What causes skin tags?
Believed to be caused by tiny collections of blood vessels and collagen – a structural skin protein – trapped inside thicker skin areas, skin tags usually appear on the neck, underarms, and groin, although they have been found in other places such as the trunk. Some people are more susceptible to developing skin tags because of family history, but in general, certain risk factors are present. Dr. Chan says these include:

Being overweight or obese
Diabetes or insulin resistance
Pregnancy
Infection with human papillomavirus (HPV)
Hormone imbalance
Whatever the cause, skin tags are extremely common. According to the National Institutes of Health, nearly half of Americans have had one, and about 6 in 10 Americans experience a skin tag by the time they reach age 70.
Tips on Getting Rid of a Skin Tag
Most skin tags don't cause symptoms unless they're repeatedly scratched or rubbed, Dr. Chan says, which commonly happens with clothing, jewelry, or by shaving.
But its appearance alone may be the catalyst you need to seek treatment for your skin tag. What are your options? These include:
Excision: "In short, this means we cut or shave it off," Dr. Chan explains, adding that numbing medication is first applied to the skin.
Cryotherapy: This removes the skin tag by freezing it with a liquid nitrogen probe.
Cauterization: This burns the skin tag off by using a heat technique known as electrolysis.
Ligation: This interrupts the skin tag's blood supply, causing it to wither.
Some people with skin tags may be tempted to just snip them off or tie them off with dental floss, but that's not advisable, Dr. Chan says.
"Self-treatment can lead to infection and may not completely remove the skin tag," he says. "Getting rid of skin tags is something you should leave up to a dermatologist."
Derek V. Chan, M.D., Ph.D, has particular interests in psoriasis, cutaneous neoplasms, and lasers/cosmetic dermatology.
Advanced Dermatology P.C. and the Center for Laser and Cosmetic Surgery (New York & New Jersey) is one of the leading dermatology centers in the nation with 18 locations in New York and New Jersey, offering highly experienced physicians in the fields of cosmetic and laser dermatology as well as plastic surgery and state-of-the-art medical technologies. http://www.advanceddermatologypc.com.