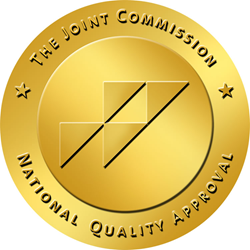 We commend Advanced Health and Education for its efforts to elevate the standard of care it provides and to instill confidence in the community it serves.
Eatontown, New Jersey (PRWEB) November 06, 2015
Advanced Health and Education, building upon its commitment to excellence as a New Jersey addiction care leader, has earned The Joint Commission's Gold Seal of Approval® for Behavioral Health Care. Advanced Health earned the seal by demonstrating its continuous compliance with the Joint Commission's highest performance standards. The Gold Seal of Approval® recognizes an organization's quality of care and operations, and reflects its commitment to providing safe and effective care.
Advanced Health underwent the Joint Commission's rigorous on-site survey in October 2015. Among other things, the Joint Commission performed a detailed review of the organization's compliance with its standards in the delivery of behavioral health care, treatment, and services to clients; client care planning; facility leadership; and, screening procedures for early detection of factors that could impact client safety. There was also a stringent assessment of Advanced Health's human resources operations.
"Joint Commission accreditation provides behavioral health care organizations with the processes needed to improve in a variety of areas related to the care of individuals and their families," said Tracy Griffin Collander, LCSW, Executive Director of the Joint Commission's Behavioral Health Care Accreditation division. "We commend Advanced Health and Education for its efforts to elevate the standard of care it provides and to instill confidence in the community it serves."
"To receive this recognition from the Joint Commission is truly an honor," says Advanced Health CEO Arel Meister-Aldama. "It recognizes our efforts to adhere to the highest possible standards of client care and facility operations, and that we are in a class of truly exceptional and high-performing organizations. I'd like to personally thank the Joint Commission for giving us the opportunity to prove ourselves, and the exceptional team at Advanced Health for the continuous hard work that made this distinction a reality."
About the Joint Commission
The Joint Commission's accreditation is nationally recognized as the symbol of quality and reflects an organization's commitment to meeting the highest performance standards. The Joint Commission's behavioral health care standards are developed in consultation with health care experts and providers, and quality improvement measurement experts. The standards help organizations measure, assess, and improve quality, safety, and performance.
Originally founded in 1951 as the Joint Commission on the Accreditation of Healthcare Organizations ("JCAHO"), the The Joint Commission seeks to continuously improve health care for the public by evaluating health care organizations and inspiring them to excel in providing safe and effective care of the highest quality and value. The Joint Commission accredits and certifies nearly 21,000 health care organizations and programs in the United States. An independent, nonprofit organization, the Joint Commission is the nation's oldest and largest standards-setting and accrediting body in health care. More about The Joint Commission is available at http://www.JointCommission.org.
About Advanced Health and Education
Located in Eatontown, NJ, Advanced Health and Education provides comprehensive, evidence-based treatment to adult men and women suffering from substance use disorder and co-occurring mental health disorders. Our expert clinicians and support staff are committed to helping our clients overcome addiction and live the lives they deserve. At our state-of-the-art facility, clients have access to a full range of traditional 12-step based therapies, evidence-based treatment, and alternative therapies, including chiropractic services, acupuncture, and yoga. Integrating physical health and mental health is essential to the recovery process. We strive to help clients heal on all levels.