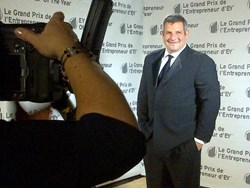 MONTREAL, QUEBEC (PRWEB) November 12, 2013
Advanceit Financial Corp. (http://www.advanceit.com), Canada's leader in alternative financing solutions for Small and Medium sized Enterprises (SMEs), announced today that Advanceit CEO Jeff Mitelman has been honoured with the 2013 EY Quebec Entrepreneur of the Year award in the Professional/Financial Services category. Jeff was recognized for his dedication to his career, his innovations in the financial services sector and his contribution to the Montreal, Quebec and Canadian business communities.
A serial entrepreneur with back-to-back successes in financial services, Jeff has launched a number of businesses that continue to shape the landscape in Canada's financial services industry. Under his leadership, Advanceit's platform is providing much sought after financing alternatives to Canadian SMEs, supporting the economic engine that is Canadian small business. A privately held company, Advanceit has experienced exponential growth over the last six years and the company's 130 employees support more than 12,000 small businesses across the country.
Entrepreneur of the Year award winners were announced at an awards gala ceremony held last week in Montreal. For over 20 years now, EY has been honouring entrepreneurial spirit and contribution with the Entrepreneur of the Year Award all over the world. Other prominent Quebec entrepreneurs were recognized in the areas of B2C, B2B, entertainment, health sciences, technology and more.
About Advanceit – Alternative Financing Solutions for SMEs
Advanceit (http://www.advanceit.com) is the leader and first-choice in alternative financing for Canadian SMEs – smart financing for smart business. Leveraging business intelligence technology, Advanceit provides cash-flow friendly alternative financing solutions that are repaid as a percentage of the SMEs' future sales. Advanceit has successfully funded the growth of more than 12,000 SMEs in Canada since the company was founded in 2006. Advanceit is located in Montreal's downtown financial sector. Visit our blog to read more on how we are helping to grow Canadian businesses.
-30-
SOURCE: Advanceit Financial Corp.
Advanceit Contact:
Bradley Wing
VP Marketing
514.819.1572
brad(at)advanceit(dot)com