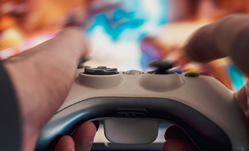 JUPITER, Fla. (PRWEB) January 05, 2022
Scheduled to broadcast spring 2022, the award-winning television series, Advancements with Ted Danson, will focus on recent breakthroughs in blockchain-based video game applications.
An upcoming segment of Advancements will explore how developments in cryptocurrency and blockchain technology are being applied to video games to create gaming projects that are based on a play-to-earn model.
"I think that blockchain games are the future of the industry and we're extremely excited to be featured on Advancements to showcase what we've been working on and why it's important," says Joseph Rubin, co-founder and CEO of Blue Monster Games.
Hearing from experts in the field, viewers will learn how Blue Monster Games is utilizing NFT technology to create play-to-earn models, giving players the opportunity to earn money in-games.
"We look forward to exploring how the latest breakthroughs in gaming technology are being used to improve the gaming experience," said Tamara Phillips, producer for the Advancements series.
About Blue Monster Games:
Blue Monster Games Inc. is a Florida-based corporation dedicated to the development of video games utilizing NFT technology. These gaming projects are based on a play-to-earn model, meaning that players have the opportunity to earn money in-game.
Blue Monster is the maker of Kart Racing League, the world's first NFT kart racing game. In addition, Blue Monster Games is developing a metaverse MMORPG called Realms of Ethernity. The team is also working on a number of different projects that will be announced over the coming months.
For more information, visit http://www.bluemonstergames.com.
About Advancements and DMG Productions:
Advancements is an information-based educational television series targeting recent advances across a number of industries and economies. Featuring state-of-the-art solutions and important issues facing today's consumers and business professionals, Advancements focuses on cutting-edge developments, and brings this information to the public with the vision to enlighten about how technology and innovation continue to transform our world.
Backed by experts in various fields, DMG Productions is dedicated to education and advancement, and to consistently producing commercial-free, educational programming on which both viewers and networks depend.
For more information, please visit http://www.AdvancementsTV.com or call 866-496-4065.