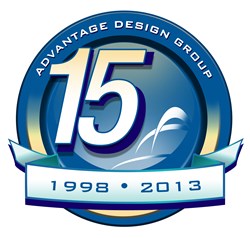 We 'move art' so that it works across all media, and translates into powerful messaging, branding consistency, and sales for our clients.
Jacksonville, Florida (PRWEB) August 29, 2013
Advantage Design Group is pleased to announce its 15th year as one of Florida's top interactive digital marketing and multimedia firms.
Beginning with computer sciences expertise, founder Catherine Swingle launched the company then known as CD Advantage in 1998. Initially, the company focused on digital imaging and specialty program creation for CD replication and duplication. Performance, quality and superior functionality of all deliverables led to the success of this new organization, and captured the interest of many notable companies and higher education institutions across the country.
Catherine then partnered with Sam Swingle and expanded the organization; moving from an operations-centric group to include marketing and corporate communications focused projects. Word of their technical expertise, creativity and hands-on leadership style spread, leading to an increase in referrals, repeat business and new clientele.
Requests for other services such as corporate websites design and development, and video production, complemented the CD/DVD authoring and replication business. This prompted the expansion of their portfolio, design staff, and equipment - and the new brand 'Advantage Design Group' was created.
Full Service
Today, Advantage Design Group is known for its new media creations that give their clients' a distinct competitive edge. As a full service multimedia firm, they have recently introduced the "Team Advantage" integrated marketing program for their clients. The solution stems from client websites, flows into marketing and sales mobile web apps, and expands in a modular way as business expands.
"We 'move art' so that it works across all media, and translates into powerful messaging, branding consistency, and sales for our clients," said Catherine Swingle, Founder of Advantage Design Group. "Over the past 15 years, we've had the pleasure of growing with our clients and for our clients as technology and digital marketing needs change. Our Team Advantage program states your marketing case, speaking with one voice, so that your team can do the same. It integrates your marketing efforts and keeps the message consistent."
For Corporate Marketing, Human Resource and Higher Education Professionals
Corporate marketing and HR people look to Advantage Design Group for design service for websites, mobile apps, video production, copy writing, and online employee training and orientations. They help all size companies – with marketing and HR departments that range from none – to many.
Well established in the higher education market, the company has developed creative and functional college online orientation programs, and high-tech recruiting, retention and transition multimedia promotional tools. Advantage Design Group excels in this vertical with student online orientations that engage students with video-rich presentations, tracks student status for administrators in real-time, integrates with school records, and allows for updates using a content management system. These are solutions for the education market that are technology driven, but also speak creatively and consistently to school brand and culture.
"We count on our clients, and they count on us to keep pushing the limits both technologically and artistically," said Swingle, "and that's exactly what we plan to do for years to come."
About Advantage Design Group
Advantage Design Group is a multimedia design and development firm based in Jacksonville, Florida with 15 years of experience in developing websites, videos, online training and orientations, interactive maps, trade show presentations, virtual tours, touch screens and mobile web apps for corporations and higher education institutions. Advantage Design Group is recognized as top 10 advertising and marketing agency in the Jacksonville Business Journal's 2012-2013 Book of Lists. They have done work for organizations like Bank of America, Detroit Tigers, Pratt and Whitney, New York University, African Wildlife Foundation, and Zurich Insurance.
Visit AdvantageDesignGroup.com
1896 Corporate Square Blvd • Jacksonville, FL • 800.657.1338