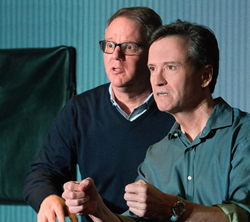 It's not a coincidence that these proficiencies mesh well with strong, effective office teamwork. Organizations that can quickly and creatively adapt have a competitive advantage over those with less flexibility.
Los Angeles, CA (PRWEB) May 14, 2015
Improv in the office? "Yes, and it's as beneficial as it is fun to learn," said Godden. "Trust, communication and collaboration are three improv-based tenets increasingly being applied to the constantly changing stage of the business world."
"It's not a coincidence that these proficiencies mesh well with strong, effective office teamwork," added Advantage Improv cofounder Bob Doll. "Organizations that can quickly and creatively adapt have a competitive advantage over those with less flexibility."
Godden and Bob Doll are former business executives with backgrounds in professional improvisation and corporate education. They launched their training company Advantage Improv (http://www.AdvantageImprov.com) in 2014. "Although most of our clients are Fortune 1000 companies," Godden said, "smaller organizations dealing with constant change, such as hospitals, are also benefitting from improv-based training."
Unlike standup comedy in which jokes are written and retold, improvisation features a team of performers who start a scene based on a random suggestion from the audience. Improvisers focus mainly on supporting each other on stage, and no single performer dominates the dialog. Celebrities who began their careers doing improv include Steven Colbert, Tina Fey, Steve Carell and Amy Poehler.
One: Improv Starts with Trust
According to Godden and Doll, improvisers trust both their fellow performers and the scene itself. Similarly, organizational team members must be able to trust both their coworkers and their company.
"On the improv stage, negating or blocking a fellow performer's words or actions will often destroy a scene," Godden said. "In the office, an employee must genuinely trust that their suggestions and contributions will be accepted and appreciated. During our Advantage Improv training workshops we conduct several lively exercises that promote inter-team trust."
Because one scene performer cannot control a scene, Doll explained, an improviser's trust must expand from fellow performers to the entire scene. In the office, employees must draw upon personal inspiration to move the shared mission forward. This motivation is facilitated when team members view their company as trustworthy, which can be demonstrated by treating internal and external stakeholders equally well.
Two: Communication Begins with Listening
"Most people see preparation as an honorable badge to wear as we attempt to convey an idea to another," Godden said. "Problems arise, however, when we're focused on what we're about to say next while someone else is still speaking."
"Thinking ahead can destroy creativity if we're simply waiting for the other person to stop talking so that we can take our turn and deliver our verbal masterpiece," Doll added. "Imagine how many great ideas have been lost due to such poor communication protocols."
Godden went on to explain that, on an improv stage, when someone is talking, everyone else is intently listening and pushing away temptation to formulate a response in advance. "Not only is interrupting discouraged, but when someone stops speaking, it can be helpful if everyone remains silent for a moment," Godden said. "This allows the new information to be absorbed, and increases the odds that the next person's verbal contribution is useful."
Three: The Shared Goal of Collaboration
"In improv we use a tool called 'Yes, and…'", Doll said. "That doesn't mean agreeing with everything said by another. Instead, think of it as a collaborative process based on constructive responsiveness. We accept what was said and we advance the scene forward."
"Beware of too many questions," Godden added. "During business brainstorming sessions, newly offered ideas are sometimes quashed under the guise of asking questions. Taking the time to address and answer a number of questions can lead to a new idea being derailed instead of built upon.
Godden and Doll point to a number of business leadership experts whose research verifies the benefits of improv techniques at work. For example, Dr. Mary Crossan of the Ivey Business School at Western University wrote, "Implementing improvisation doesn't require rejecting what companies have been doing. On the contrary, companies need to sharpen their traditional skills and add to them." Daena Giardella of the MIT Sloan School of Management wrote, "Innovation thrives in atmospheres of safety and non-criticism. Improv builds a muscle for trusting our own impulses and ideas, before we analyze how good they are. It develops an open-mindedness toward other people's ideas." Additional academic references can be viewed at http://www.advantageimprov.com/experts_on_improv.htm.
About Advantage Improv
Advantage Improv cofounders Bob Doll and Lee Godden met while performing improvisational comedy on stage five years ago. In addition to improv they learned they had two other things in common: careers as successful business executives (Bob in finance and Lee in sales), and backgrounds as corporate educators.
Bob and Lee merged their improv-for-business methodologies, and then presented at several TEDx events. They later cofounded Advantage Improv. Their goal: to continue teaching forward-thinking organizations how to boost creativity, effectiveness and profits by leveraging proven improvisational techniques.
Additional information about Advantage Improv can be found by calling 888-827-2328 or by visiting their website, http://www.AdvantageImprov.com. The company's Facebook page is http://www.facebook.com/AdvantageImprov. A video from a recent Advantage Improv training can be viewed at http://www.advantageimprov.com/about.htm.