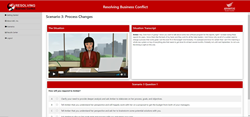 "Our new Resolving Business Conflict simulation is a digital learning experience that is designed for professionals at all levels who are challenged with resolving conflict in the workplace." - Robert Brodo, Advantexe CEO
PHILADELPHIA (PRWEB) May 16, 2022
Advantexe Learning Solutions, a global leader in business simulation-centric training solutions, today announced the launch of a new digital business leadership simulation and learning experience which focuses on business conflict management called Resolving Business Conflict™.
Resolving Business Conflict™ is an interactive, learning experience designed to help participants build the necessary skills to resolve four different types of common business conflicts: Business Asset Conflicts, Business Goal Conflicts, Business Culture Conflicts, and Business Accomplishment Conflicts.
The learning solution provides users with a framework to better manage environments where disagreements are bound to happen between people and functions who have disparate agendas and priorities. It combines short learning lessons with hands-on, scenario-based simulations that allow participants to build and practice new skills in risk-free environment.
In the simulation, learners are challenged to resolve each of the common conflicts through a series of scenarios. Learners interact with simulated characters and team members to select the most appropriate response to each situation. At the completion of the simulation, feedback and scores are provided based on the participants' use of the conflict model.
"Business conflicts are bound to happen and they are quite different in our new normal of remote and blended work, but they do not need to be disruptive," says Robert Brodo, Advantexe CEO. "Our new Resolving Business Conflict simulation is a digital learning experience that takes approximately 45-60 minutes to complete and is designed for professionals at all levels who are challenged with resolving conflict in the workplace."
The new simulation is cloud-based and can be delivered virtually or during an in-person learning event. It can also be incorporated into an existing training program or experienced as part of an Advantexe leadership learning journey. The simulation is ready to use off-the-shelf, or it can be customized to a client's unique environment and situation.
About Advantexe
Advantexe Learning Solutions partners with clients around the world to build the business acumen, leadership, and selling skills needed to execute their business strategies and achieve meaningful business results. Our comprehensive toolkit includes skills assessments, dynamic learning engagements powered by digital business simulations, and reinforcement tools that encourage immediate skill application. These elements combine to produce a measurable and lasting impact on our clients' businesses.
Media Contact:
Jim Brodo, CMO – Advantexe
Email - jim dot brodo at advantexe.com