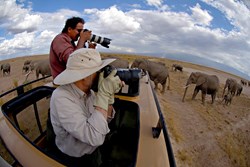 Missoula, Montana (PRWEB) November 06, 2013
Adventure Life has announced the launch of a new line of Africa Safaris and land tours spanning seven countries on the continent. The small group specialists are adding to their selection of expedition cruises in the region to now offer over 27 new land-based Africa tours.
"Expanding to offer Africa has been a very natural progression for us," said general manager Jonathan Brunger. "We pride ourselves in having intimate knowledge of off-the-beaten path areas in all our destinations, and Africa safaris and land tours require a similar expertise that we have been increasingly gaining as we've hired staff with intimate knowledge of the area."
The diverse range of itineraries include Mt. Kilimanjaro climbs in Tanzania, gorilla tracking in Uganda and Rwanda, South Africa and Botswana Safaris, and desert safaris and multisport tours in Namibia. Extensions to Zambia, Zimbabwe and Madagascar are also available to visit Victoria Falls or stay in a luxury beach resort.
"We've seen a great response so far," continued Brunger. "Many of our repeat travelers have been eagerly awaiting the Africa launch to reserve a trip with us."
Brunger shared that future phases of developing their Africa line will include West Africa, Kenya, Morocco, and the Congo.
About Adventure Life
Adventure Life is a company of travelers with a passion for sharing the world with others. Our travel experience runs deep, from years volunteering in rural Africa and Central America, to research trips in Asia, studying in Europe, guiding in the Rockies, and just bouncing around every corner of the world. This deep experience is the reason behind our pioneering approach to travel and award winning itineraries. For nearly fifteen years we have been creating personal itineraries that immerse our travelers in the vibrant colors of a place, leaving both our guests and hosts enriched by the experience. From our beginnings as a Latin America specialist, we now offer private journeys, small group tours, and expedition voyages throughout the world. We pride ourselves on our intimate knowledge of our destinations and our dedication to sharing the world.