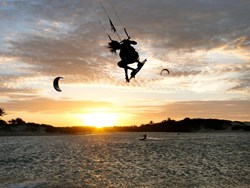 Adventure Life Brazil trips include Brazil city tours, Amazon River cruises, Brazil eco-lodges as well as some unique Brazil trekking trips.
Missoula, Mont. (PRWEB) September 30, 2013
Leading South America tour company, Adventure Life, has added an extensive collection of Brazil adventure tours. Options include Brazil city tours, Amazon River cruises, Brazil eco-lodges as well as some unique Brazil trekking trips. To speak with a trip planner call 800-344-6118 or visit http://www.adventure-life.com.
Brazil is attracting more attention than ever thanks to its hosting of the 2014 FIFA World Cup and the 2016 Summer Olympics. With its 7500 kilometers of sunny coastline and being the gateway to the Amazon, the World Economic Forum recently ranked Brazil's natural resources for tourism as the best in the world.
Adventure Life's new collection of trips includes Brazil city tours such as "Highlights of Rio" and the "South America Three City Tour" with stays in Santiago, Buenos Aries and Rio de Janeiro.
Brazil travel options also include vacations to Brazil rainforest eco-lodges like Caiman Ecological Refuge and Cristalino Jungle Lodge, as well as Amazon River trips such as "Voyage to the Heart of the Amazon."
Within this collection of Brazil tours are also some unexpected trips including trekking in the desert of the Lencois Maranhenses National Park and stays in the charming coastal village of Jericoacoara which is reminiscent of the country's past with leisurely days on the sandy beaches soaking in the pristine views of the ocean.
As with all Adventure Life trips, the itineraries on the website are merely starting points from which you can customize with the help of the company's personal trip planners to build the perfect adventure for you.
# # #
About Adventure Life
Adventure Life is a company of travelers with a passion for sharing the world with others. Our travel experience runs deep, from years volunteering in rural Africa and Central America, to research trips in Asia, studying in Europe, guiding in the Rockies, and just bouncing around every corner of the world. This deep experience is the reason behind our pioneering approach to travel and award winning itineraries. For nearly fifteen years we have been creating personal itineraries that immerse our travelers in the vibrant colors of a place, leaving both our guests and hosts enriched by the experience. From our beginnings as a Latin America specialist, we now offer private journeys, small group tours, and expedition voyages throughout the world. We pride ourselves on our intimate knowledge of our destinations and our dedication to sharing the world.