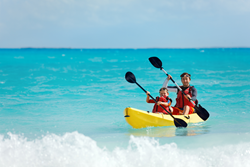 "Expanding our work into new markets has always been a goal for Adventure Links. I am thrilled we can bring our one-of-a-kind summer camp experience to Miami, and even more excited to be working with Debris Free Oceans."
MIAMI, FL (PRWEB) January 10, 2017
Since 1997, Adventure Links has been a leader in summer camps, outdoor education, and team building in Northern Virginia. With it's headquarters located just outside of Washington, DC, Adventure Links is celebrating it's 20th birthday by launching its newest location in Miami. Adventure Links' unique model is one of the only day camps to offer multiple, convenient pickup locations throughout Miami-Dade County, and is currently the only summer camp to partner with Debris Free Oceans, a local non-profit dedicated to environmental education and the preservation of our waterways.
Adventure Links provides campers ages 8-13 with exhilarating, outdoor adventure activities including kayaking, surfing, snorkeling, paddle boarding, sailing and more. Campers also have the unique opportunity to give back through inspiring and educational ocean cleanup efforts through their partnership with Debris Free Oceans. Regardless of their skill level, Adventure Links day camp has exciting options for every child. By offering multiple pick-up locations, exciting adventure activities, and unique educational and volunteer opportunities, Adventure Links is a summer camp provider like no other.
"Expanding our work into new markets has always been a goal for Adventure Links. I am thrilled we can bring our one-of-a-kind summer camp experience to Miami, and even more excited to be working with Debris Free Oceans," said Anna Birch, Founder and CEO of Adventure Links. Caiti Pomerance, Co-Founder and Board President of Debris Free Oceans added, "Working with Adventure Links' will allow us to expand our reach and continue our work to improve the environment and educate our community. Having the opportunity to work directly with our community's youth through Adventure Links is incredible."
To continue Adventure Links' 20th birthday celebration, Adventure Links is also offering a 20% discount on all summer camp programs booked through January 31st. Families can take advantage of the offer and register for summer camp by visiting adventurelinks.net/miami and using promo code "miami." Summer camp sessions start June 12th and continue through August 11th.
For more information on Adventure Links' expansion into Miami, summer camp schedule, pick-up locations, and to register for camp, visit adventurelinks.net/miami. Interested families can stay up to date with Adventure Links through Facebook, Twitter, and Instagram.
###
ABOUT ADVENTURE LINKS
For 20 years, Adventure Links has been a leader in summer camp, outdoor education, and team building. Founded in 1997 by Anna and Austin Birch in Northern Virginia, Adventure Links has provided exciting and memorable summer camp experiences for nearly 15,000 children and thousands of corporate, non-profit, and school groups. Our Northern Virginia location is a trusted partner of the Northern Virginia Regional Park Authority and Fairfax County Public Schools, and we maintain an accreditation by the American Camp Association. In Virginia, Adventure Links offers children and adults numerous adventure and learning opportunities including a high ropes course, kayaking, caving, and rock climbing. To celebrate their 20th anniversary, Adventure Links expanded to Miami, FL. In Miami, Adventure Links is offering it's highly acclaimed day camp program where it will be providing children adventure activities including surfing, snorkeling, sailing, and more. Learn more about Adventure Links at http://www.adventurelinks.net, and follow them on Facebook, Twitter, and Instagram.
ABOUT DEBRIS FREE OCEANS
Debris Free Oceans is a Miami, Florida-based 501(c)(3) nonprofit organization dedicated to inspiring local communities to responsibly manage the lifecycle of plastics and waste as part of a global initiative to eradicate marine debris. Focused on positivity, Debris Free Oceans engages people through its annual eco-fashion show as well as its monthly SCUBA, stand-up paddleboard, snorkeling, kayak, and yoga cleanup events. Debris Free Oceans also provides sustainability consulting services to companies going green, advocates for strong pro-clean beaches legislation, and educates students from elementary school to college about marine debris and how each person can seamlessly transition to a zero-waste lifestyle. Learn more about Debris Free Oceans at http://www.debrisfreeoceans.org, and follow them on Facebook and Instagram at @debrisfreeoceans.