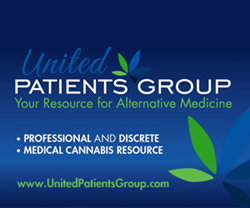 United Patients Group is also a remedy for businesses that have lost reach with potential customers as Facebook and other online networks alter their algorithms.
San Francisco, CA (PRWEB) August 21, 2014
United Patients Group (UPG) today announced full-service marketing and advertising services to help advertisers reach prospective clients in the medical cannabis sector. UPG is the world's leading resource for medicinal marijuana patients, individuals and firms that create or market cannabis-related products, and organizations that raise awareness of the health benefits of this remarkable plant.
"As the cannabis industry evolves, it is dividing into two distinct markets: one that serves medicinal cannabis patients and another that caters to recreational cannabis users," says John Malanca, founder of UPG. "We offer businesses the opportunity to make their products known and available to a growing population of patients who are turning to cannabis for relief."
UPG is also a remedy for businesses that have lost reach with potential customers as Facebook and other online networks alter their algorithms, says Malanca. His team of marketing and advertising professionals take companies to the next level—the medical level—to explore specific and more effective avenues for reaching their target audiences and other stakeholders in the medical cannabis industry.
"We meet a lot of frustrated people who have spent a fortune trying to build a name with the recreational cannabis crowd," says Malanca. "We help companies re-target their campaigns from recreational users to medicinal cannabis patients quickly and painlessly."
John proudly heads UPG the old-fashioned way, by answering calls, getting to know each client, and following up promptly. "Our advertisers tell us that our follow-through is unparalleled in this industry or any other industry," says Malanca. "We do it because we truly care about their success and well-being."
For more information, go to http://www.UnitedPatientsGroup.com.
About United Patients Group:
United Patients Group is a discreet, safe, and professional online medical cannabis information resource for prospective and current patients, caregivers, and medicinal cannabis industry professionals.
While most online medical cannabis sites cater to patients already familiar with medical marijuana, the UnitedPatientsGroup.com website is a comprehensive and easy-to-use information source for people of all ages and experience levels, from novice users to experienced industry professionals. The site's News, Resource, and Blog pages introduce new patients to the ins and outs of medical marijuana healthcare, while helping experienced providers stay abreast of the latest developments in THC and CBD therapies.
A complimentary five-star-rated United Patients Group medical marijuana app is available on the iTunes app store for iPhone 3GS, iPhone 4, iPhone 4S, iPhone 5, iPod touch (3rd generation), iPod touch (4th generation), and any iPad.