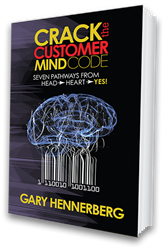 "The #1 problem marketers face is attracting new customers and retaining current customers.This book upends customary marketing tactics and takes a deeper approach to more successful selling."
New York, NY (PRWEB) May 10, 2016
Advertisers and marketers can find more customers using the innovative advice from "Crack the Customer Mind Code," a new release from Morgan James Publishing. This new book, with the subtitle "Seven Pathways from Head to Heart to YES!" teaches businesses how to find more customers by aligning marketing and advertising with the natural flow of pathways through the human mind. This approach, researched and written by marketing analyst Gary Hennerberg, upends customary marketing and sales tactics by taking a deeper approach to why certain marketing campaigns work.
"Customer attitudes have shifted during this new century due to technology, the economy, and constant negative news, but how the human mind processes information is timeless," said Hennerberg. Based on the patterns of successful marketing campaigns, "Crack the Customer Mind Code" teaches the reader how to align marketing messages using the mind's natural progression to "yes" through seven steps: identify the persona, stimulate emotion, calm the mind, position or reposition the organization or product, engage with story, interpret the outcome, and lead prospective customers to give themselves permission to act.
Included in "Crack the Customer Mind Code" are analyses of the most-observed behavioral characteristics of 12 personas, with descriptions about how to align marketing messages with the seven mind pathways. Overlaying these proven concepts onto each of the twelve defined personas, Hennerberg shows the reader how to powerfully transform marketing campaigns that move prospects to action. Reviewers are saying:

"I find myself reading and re-reading this book picking up more golden nuggets that can exponentially increase my client's conversion rates."
"I must confess, once I identified my "persona" in the prospect groups, I was anxious to see how Hennerberg wrapped up all the "seven pathways" from my head to my heart to Yes. It was spot on for me."
"I've highlighted my book and plan to share it with my CEO."
"Crack the Customer Mind Code" is now available nationwide in bookstores and online.
About the Author:
Gary Hennerberg is internationally recognized as a Business Analyst, Marketing Consultant, and Copywriter who uses a wide variety of print and online channels to find his clients more customers. He uses a blend of left brain analytic thinking, and right brain creativity, to grow businesses.
More About This Title:
"Crack the Customer Mind Code: Seven Pathways from Head to Heart to Yes!" by Gary Hennerberg released by Morgan James Publishing in May, 2016. Crack the Customer Mind Code's—ISBN 978-1630476984—has 238 pages and is being sold as a trade paperback for $17.95.