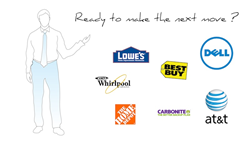 We like to think we've done the ground work here by recognizing a niche in the marketplace and designing platforms that meet an integral need
Wilmington, DE (PRWEB) March 27, 2014
Having created customer care for five service based industries 24hLocal.com now opens the door to advertisers. The natural extension of their resourceful company, 24h Local targets advertisers who want to publicize their products and businesses on their repair sites with sought after advertising niches. 24h Local sites revolve around computer repair, appliance repair, air conditioning, electrician or plumbing services. The "24h" repair sites offer a new level of customer service including free answers to questions within 24h and complimentary tutorial videos per requests of the visitors.
Giving advertisers and their well-placed ads an optimum presence "24h" sites allow for the targeting of both broad national or specific geographical locations. "We like to think we've done the ground work here by recognizing a niche in the marketplace and designing platforms that meet an integral need. Online advertising costs have reached double digit dollars per single click, what a large portion of potential advertisers simply cannot afford. We have created a marketing opportunity which was cost prohibitive before", said the spokesperson of 24hLocal.com.
Considering the exorbitant prices of advertising for the service and related industries by way of other channels 24h Local offers an unquestionable value proposition to its advertising clients. For more information and setup and account visit http://www.24hLocal.com/advertisers or call directly at 800-761-5315.
About 24hLocal.com:
24h Local, with its websites helps visitors to get cost effective expert help on computer repair, appliance repair, air conditioner repair as well as electrical or plumbing problems.