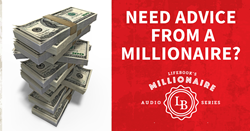 "We decided to take Jon's research on financial success and make it available to anyone interested in personal growth through an online audio program." - Dave Jaworski, COO
Chicago, IL (PRWEB) April 28, 2015
The Twelve Category Smart Millionaire Series is a new online resource teaching life and money lessons from self-made millionaires. The complimentary audio program started out as a research project from Lifebook founder, Jon Butcher, but grew into something much bigger.
Butcher, a serial entrepreneur with his own rags to riches story, has been studying personal development as it relates to an individual's financial life for over twenty years. He set out to interview self-made millionaires about what they learned on the road to success. The interviewees spanned professions from chiropractor to marketer and from entrepreneur to a literal rock star. Each conversation gleaned unique financial advice, but all offered a common thread about building a great life.
"What Jon learned goes so much deeper than finance, it goes right to the core of personal development," said Lifebook COO, Dave Jaworski. "That's why we decided to take Jon's personal research and make it available to anyone interested in personal growth."
Lifebook converted these interviews to a four-part audio program, The Twelve Category Smart Millionaire Series. There is no cost. Anyone interested in hearing advice from millionaires simply needs to register online.
Lifebook is based in Chicago. The company's personal development classes have helped thousands around the globe to clearly discover and document the life they want and set a path to achieve it. All of the millionaires interviewed are Lifebook graduates.