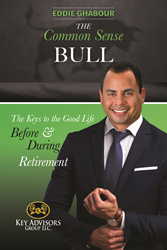 "People should be able to retire without feeling as if they need to 'get out of the markets' entirely. The Common-Sense Bull puts it all into perspective—providing an understanding of when you can be bullish and when to rely on a broader sense of stock market history."
FORT LAUDERDALE, Fla. (PRWEB) March 19, 2019
Advisors' Academy Press is proud to announce the publication of their latest book, The Common Sense Bull: The Keys to the Good Life Before and During Retirement, by Eddie Ghabour.
In his new book, Eddie Ghabour, a seasoned financial advisor and regular guest on top-rated, nationally syndicated financial TV shows like Varney & Co., provides readers with the frame of mind and strategies required to not only survive, but thrive, in today's markets.
Sharing insights acquired over Eddie's 20+ years of experience providing wealth management services to his clients, The Common Sense Bull lays out the keys to living the good life ahead of, and during, retirement.
After reading the book, readers will better understand what it takes to achieve and sustain happiness during retirement. They will also learn about the steps and thought process required to overcome common challenges in achieving financial independence.
The book provides an understanding of the naturally occurring rhythms and cycles in the financial markets, so readers will be better able to recognize when to take advantage of buying opportunities, as well as when it might be best to take a more defensive approach to planning and saving for retirement.
Eddie Ghabour says, "People should be able to retire without feeling as if they need to 'get out of the markets' entirely. The Common Sense Bull puts it all into perspective—providing an understanding of when you can be bullish and when to rely on a broader sense of stock market history."
The Common Sense Bull is now available for purchase on Amazon.com.
Eddie Ghabour is the co-founder and managing partner of Key Advisors Group, LLC. He graduated from York College of Pennsylvania with a degree in Economics and Finance and began his successful career as a wealth advisor in 1998.
In December of 2000, Eddie and his business partner started Key Advisors Group, LLC. They now have offices in Dover and Lewes, Delaware and help serve many families looking for wealth management strategies focused on retirees. Since then, Eddie has qualified for the prestigious MDRT, Court of the Table, and Top of the Table honors each year.
About Advisors' Academy: Advisors' Academy was founded in 2007 by David J. Scranton with a vision to recruit other highly successful and motivated advisors and teach them how to achieve even higher levels of success, while always keeping the interests of their clients first. Through ongoing personal coaching and training in a variety of innovative, market-proven systems and turnkey tools, hundreds of elite advisors from across the country now share in the realization of Dave Scranton's vision.
Advisors' Academy Press, LLC is partially owned by David J. Scranton and its books are distributed by Simon & Schuster, part of the CBS Corporation.