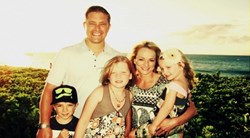 Today... we are making more than $100,000 per month.
Portland, OR (PRWEB) August 31, 2013
BigBelief.com is a site Bob Donnelly uses as a resource to inform and educate his team of AdvoCare Distributors. This week, he added a blog to his site to highlight popular products and share stories of success to motivate others.
Donnelly's first blog post hits on how he and his wife got involved with AdvoCare products, how their income started changing as Distributors, and what their AdvoCare business has allowed them to focus on in their lives.
"At first, our excitement about AdvoCare came because of the nutritional products they offered," the blog says. "I lost 25 pounds and my pants size went from a 36 to a 32 in the first two months. Jenny was skeptical at first... but she was sold after looking at AdvoCare's Scientific & Medical Advisory Board. She found that AdvoCare was all about wellness, and not about weight loss or trendy diet plans."
Donnelly says that at the time he was introduced to AdvoCare, he was working in an engineered wood products mill. He says within three months of becoming an AdvoCare Distributor, he decided to quit his job, and work full-time sharing the products.
"We earned $4,000 in our first month," he explains. "Within a year... it was up to an average of $10,000 per month... Today... we are making more than $100,000 per month."
When asked about this progression in income, Donnelly says, "Becoming a Distributor isn't a 'get rich quick' plan. Like anything, it takes a ton of hard work and dedication."
The blog shows that the dedication has paid off for the Donnellys.
"If you look at my calendar you'll see, 'swim practice at 12:30, track meet at 4pm, dance recital at 6pm'... my wife and I now get to spend our days supporting our children and each other as stay-at-home parents."
Donnellys Proposal
Bob and Jenny say that anyone who wants to learn more about the products, or is interested in becoming a Distributor has many different options.
To learn about the products people can visit Donnelly's Distributor Page on the AdvoCare website.
Those interested in signing up as Distributors can visit this link.
You can also text TeamUp to 69302 to receive updates by text.