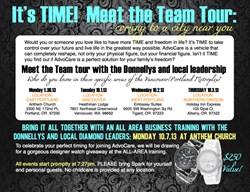 Portland, Oregon (PRWEB) October 07, 2013
BigBelief.com announces that local AdvoCare leaders are putting on a regional training event in Portland Oregon for AdvoCare distributors.
The training event will be Monday, October 7th, at 7:27pm. It will be held at the Anthem Church, 3300 NE 172nd Place, Portland Oregon, 97230.
The business training event caps off a week-long "Meet the Team Tour." The tour offered smaller scale events within the region in East Portland at Anthem Church on September 30th, in Vancouver at the Heathman Lodge on October 1st, in West Portland at the Embassy Suites on October 2nd, and in Albany at the Holiday Inn Express on October 3rd.
Bob and Jenny Donnelly, successful AdvoCare Independent Distributors, will speak at the regional event along with other successful AdvoCare leaders.
Promotional material for the event states that its purpose is to help those who attend to find out if AdvoCare is a perfect solution for their family's freedom - both physically and financially.
The site says AdvoCare offers world-class nutritional supplements, sports performance products and skincare to the American marketplace through the free-enterprise model of direct selling. It says "AdvoCare is a vehicle that can completely reshape, not only your physical figure, but your financial figure."
About Bob and Jenny Donnelly
Initially the Donnelly's got involved with AdvoCare because of the nutritional benefits. As a registered dietitian, Jenny Donnelly studied the products as a supplement to her business.
Bob and Jenny both saw the benefits of these products when Bob lost 25 pounds in the first two months of using them.
Soon they were sold on the business side of AdvoCare as well. They say they made $4,000 in their first month promoting AdvoCare. Then within a year, they say, their checks were up to $10,000 per month. Today, the Donnelly's bring in over $100,000 per month as AdvoCare Distributors.
They have built a successful team here in the Portland Metro area and continue to educate and build their team through events like this regional training.
"Becoming an AdvoCare distributor is easy," they say. "Actually being successful takes a ton of hard work and dedication."
The Donnelly's say the fruits of their hard work and dedication have given them the ability to stay at home with their children and focus their attention on supporting them emotionally, since the financial aspect is now taken care of.
Bob and Jenny both urge anyone interested in finding out more about AdvoCare products and business opportunities to visit their website and read their blogs.