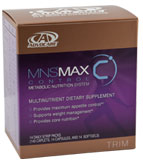 ...developed to boost peoples' metabolism for better weight management.
Portland, Oregon (PRWEB) February 08, 2014
AdvoCare MNS is a product developed to boost peoples' metabolism for better weight management. The product can only be purchased from an AdvoCare Independent Distributor.
AdvoCare is a premier health and wellness company offering world-class energy, weight-loss, nutrition, and sports performance products along with a rewarding business opportunity.
Bob and Jenny Donnelly run BigBelief.com, and are AdvoCare Independent Distributors in Portland OR.
On their blog, they recently posted about the three variations of MNS, and the results people have seen who use it in their weight management system.
The post explains that the three different types of MNS are Max C, Max E, and Max 3.

MNS Max C– this is aimed at controlling your appetite so you can control how much and how often you eat. It not only helps suppress your urges to eat, but with its scientifically proven ingredients it also gives your metabolism a nice boost.
MNS Max E– using an exclusive blend of nutrients and botanical extracts the Max E supplement revs up your metabolism, increases your energy and burns extra calories.
MNS Max 3 – this is a complete weight-loss supplement that can help your nutritional wellness, support your digestive system, boost your energy, help your skin tone and even sharpen your eyesight.
Max C and E are only for people ages 18 and older. Max 3 is for people ages 12 and older. The key ingredients can all be seen on the product pages linked to above.
The site states that AdvoCare MNS is perfect for people who:

have tried other weight management programs and not received the expected results.
want help controlling their appetite and food choices.
lack the energy to tackle proper fitness and weight management plans.
want to lose weight and improve their lean body mass.
Quality and safety guidelines for the products can be read about here.
More About Bob and Jenny Donnelly
Bob and Jenny Donnelly have been involved with AdvoCare since 1999. After realizing the great health benefits of the products, they began exploring the business side of AdvoCare. In their first month, they earned $4,000. Three months later Bob quit his job at an engineered wood products mill and began working full time with his wife Jenny to share AdvoCare with others. Within a year, their income from AdvoCare was up to an average of $10,000 per month. Today, 14 years later, they are making more than $100,000 per month.
BigBelief.com also has information about other AdvoCare products, as well as stories about how the products have helped people to become more healthy and more financially independent.