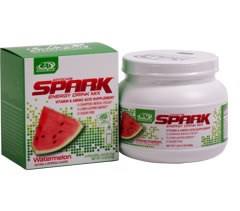 Spark helps me to focus, finish my work, and get back home without feeling drained.
Portland, Oregon (PRWEB) December 19, 2013
BigBelief.com is a site run by Bob and Jenny Donnelly who are Independent Distributors for AdvoCare. Their website acts as a resource for those currently using or looking at using AdvoCare products.
Recently, they have posted on their blog about AdvoCare Spark, one of the most popular products in the AdvoCare inventory.
The post says it is one of the most popular products because "it is the most nutritionally advanced energy drink on the market."
They back this up by naming a few of the product's perks:

"sugar free
fast acting
contains 21 vitamins, minerals, and nutrients
only 45 calories per serving
sharpens mental focus"
Reading on will unveil that Spark comes in two different forms: a canister and packets. "Obviously the canister is great for having at the home or office where Spark will be consistently used, while the packets are great for any time you'll be out and about."
There are currently eight flavor varieties: Watermelon, Pink Lemonade, Mango Strawberry, Mandarin Orange, Grape, Fruit Punch, Citrus, and Cherry. All of the flavors are available in both the canister and the packets.
The blog post also has the following reviews by Spark users:
"I take Spark right before my kids get home from school. I know when they get home I need to be focused and have the energy to play and interact with them. After a long day, Spark helps me to do this."
"I work in a cubicle all day. For a long time I found it hard to focus on my work in this setting. Spark helps me to focus, finish my work, and get back home without feeling drained."
"Exercise is incredibly important to me. Spark gives me the push I need to work my hardest at the gym. Love it!"
Spark can only be purchased through AdvoCare distributors (read more about them here) or at their online store.
Discounts on products can be received by becoming a distributor. Click here to learn more about becoming a distributor. The discounts start at 20% and can go as high as 40%.
About Bob and Jenny Donnelly
Bob and Jenny Donnelly have been involved with AdvoCare since 1999. After finding the products to be very beneficial, they began exploring the business side of AdvoCare. They earned $4,000 in their first month. Within three months, Bob quit his job at an engineered wood products mill and began sharing AdvoCare full time with his wife Jenny. Within a year, their income from AdvoCare was up to an average of $10,000 per month. Today, 14 years later, they are making more than $100,000 per month.