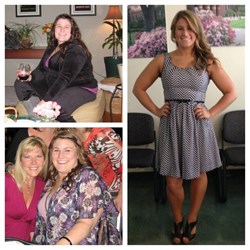 Within a year and a half, Janel has lost 70 pounds and 61.5 inches.
Portland, Oregon (PRWEB) October 17, 2013
Bob and Jenny Donnelly are AdvoCare Independent Distributors who run a website called BigBelief.com. Their site exists mostly to support their team of AdvoCare distributors, but it is also there to inspire and motivate people to become healthy and financially stable through AdvoCare products and business opportunities.
In recent blog posts, they have highlighted the AdvoCare weight loss success stories of two inspiring women. The Donnelly's posted a request on their Facebook wall for people who wanted to share their story on BigBelief.com. Out of all the people who submitted their stories, Bob and Jenny decided that Janel and Deonna best represented the spirit of AdvoCare that they wanted readers to ingest.
Janel, who blogs at WondrousWomenFitAndFab.com says what she gained from AdvoCare was more important to her than what she lost... and she lost a lot! Within a year and a half, Janel has lost 70 pounds and 61.5 inches. "Living an AdvoCare Lifestyle," she says, "has given me happiness and confidence that I didn't even know existed."
Deonna says she has gained a lot of happiness through AdvoCare as well. "My body is shrinking and my smile is growing," she says. Within a year and a half Deonna lost almost 100 pounds. She said AdvoCare energy drink Spark (learn about it here), has helped her kick the unhealthy habit of drinking five diet sodas per day.
Bob and Jenny invite others with weight loss success stories through AdvoCare to share in the comments section on their website. A few more people have already done so. A man named Mike shared that he had lost more than 40 pounds and was able to keep it off and feel healthier than ever. Another man, Mario, posted a link to his Facebook page where he explains that he has lost nearly 10 inches off his waist.
The original post on BigBelief.com explains that most people begin their journey with AdvoCare by trying the 24-Day Challenge.
The Challenge bundles a number of AdvoCare products together, paired with a nutrition guide that the Donnelly's say helps people achieve optimum results. The products in the Challenge are an Herbal Cleanse (meant to rid the body of toxins and waste), AdvoCare Spark packets (mix with water to make an energy drink), OmegaPlex, Meal Replacement Shakes, and AdvoCare MNS (Metabolic Nutrition Systems).
You can visit BigBelief.com to read more about AdvoCare products and the weight loss success people have attained with the help of AdvoCare.