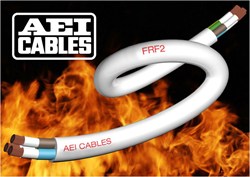 A two-hour rated fully flexible fire performance cable with unique capabilities, FRF2 is dramatically reducing installation times and saving money.
Birtley, Co. Durham, UK (PRWEB UK) 15 August 2013
AEI Cables was originally challenged by London Underground to meet their requirements for a flexible 2-hour fire resistant cable which was also suitable for use in subsurface railway installations. FRF2 is now available on the open market for numerous applications owing to its dramatic flexibility and fire performance attributes.
FRF2 is perfect for areas of high vibration and where cable needs to bend around complex corners, such as the underground rail environment. Similarly, applications such as emergency and normal lighting circuits, 'enhanced' emergency lighting circuits (BS 5266-1), egress signage, temporary power supplies, fire alarm related circuits, help points, amplifier supplies and Category 3 Control (BS8519) circuits are also ideal applications for FRF2, where, in contrast to many fp cables which require significant expertise and time to install, FRF2 reduces installation significantly.
Ian Watts, Project Manager at AEI Cables predicts high demand for this latest fire safe cable: "AEI Cables' design team is daily challenged by clients to provide new cable products with bespoke features for very specific applications. Because FRF2 is so flexible, it can be viewed as a bespoke design already due to its versatile design and practical application potential."
The two key fire performance criteria were the fire resistance security of an 'enhanced grade cable' (BS EN50200 PH120 & BS8434-2) and the exacting fire reactance requirements of London Underground's Category 1 standard 1-085 Fire Safety Performance of Materials.
Cables meeting BS EN50200 PH120 & BS8434-2 are described as 'enhanced' in BS5266-1 emergency lighting - Part 1: Code of practice for the emergency escape lighting of premises, BS5839-1 fire detection and fire alarm systems for buildings, and BS5839-8 for voice alarms.
Specifiers are possibly unaware that the same cable performance recommendation is used in BS 8519:2010 selection and installation of fire-resistant power and control cable systems for life safety and fire-fighting applications (Code of Practice). Cables meeting BS EN50200 PH120 & BS8434-2 are specified in BS8519 for a Category 2 Control cable. Effectively this gives a recommendation for the cables which will interface between a fire alarm system and many other systems such as (mechanical) fire engineering kit or equipment. However these control cables may be small unprotected cables and may also require mechanical protection.
Beneficially, Firetec FRF2 has the ability to meet applications in all these codes of practice and has been third party certified to BS EN50200 PH120 and BS8434-2 i.e. 'enhanced grade' and BS8519 Category 2 control. Furthermore, AEI Cables' fire test laboratory has successfully tested FRF2 to Category 3 control.
Most small fire resistant cables are tested in free air using the BSEN50200 test rig. Because Firetec FRF2 was also likely to be installed in containment, AEI Cables successfully tested FRF2 to IEC 60331-3 as indicated by BS5266-1. 8.2.2.(d) in addition to 8.2.2 (b) thus satisfying both the 2 hour survival times for an enhanced emergency lighting cable and a cable system. Codes of Practice have for many years reminded us that the mechanical protection of cables by conduit, ducting and trunking should not be assumed to give protection against fire, indeed such an installation environment may even compromise the performance of a fire resistant multicore cable.
Therefore, specifying engineers will find it beneficial that FRF2 has been fire test evaluated in both environments (free air and conduit) which are conditions likely to occur in an installation where additional mechanical protection is indicated.
The conductors of AEI Firetec FRF2 are Class 5 and the complete cable complies with the flex test in BS6500 to 32000 cycles flexing and the high performance compounds deliver a potential 90°C conductor and the cable has a 450/750V class rating.
Editors' Further Information:
AEI Cables manufactures from a 26.5 acre site in Durham, UK. Its products are approved by independent bodies including BASEC and LPCB covering design, manufacture and supply. The company holds approvals from Lloyds, MoD, Network Rail and London Underground Ltd, and works to international standards including Cenelec, IEC, ISO, American and Canadian. AEI Cables supports the Approved Cables Initiative (ACI).
Other AEI Cables' products include elastomeric and thermoplastic cables for voltages up to 20kV, high performance PEEK and ETFE thin wall cables and wires for rail, mining, defence, oil and gas, construction, industrial and power markets.
In 2007, the company became part of Paramount Communications Ltd, one of India's largest cable manufacturers.