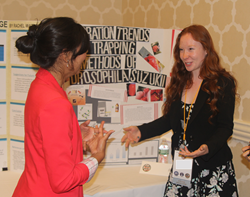 This is a group of young adults that have ignored the limitations that society often attributes to the 'younger generation.'
Washington, DC (PRWEB) May 14, 2015
The U.S. Army, Navy and Air Force just selected a handful of elite high school students to receive awards for their top-caliber research. Students performed original research in Science, Technology, Engineering, and Mathematics (STEM) in order to compete at the 53rd National Junior Science & Humanities Symposium (JSHS).
"I am continually impressed by both the quality and level of work that students bring to this event," said Ms. Mary J. Miller, Deputy Assistant Secretary of the Army for Research and Technology. "This is a group of young adults that have ignored the limitations that society often attributes to the 'younger generation.'"
JSHS offers a unique format because it features two types of competition. For the Presentation Sessions, students perform original research, then make a formal presentation of their findings to judges and an audience of their peers. Winners of the Presentations were announced earlier this week; find those details here: http://www.usaeop.com/news/.
At the Poster Sessions, students summarize the findings of their original research and present those findings in poster format (similar to other elite science competitions). Congratulations to the following winners of the Poster sessions at the 53rd National JSHS:
Simone Braunstein, Metro New York JSHS ($1,000 cash award)
A Novel Controller for Soft Robots: An Experimental Usage of Linear Temporal Logic Mission Planning (LTLMoP) with an Optimized Elastomeric Actuator
Swamov Pujari, Upstate New York JSHS ($800 cash award)
Solving the Energy Crisis One Step at a Time
Quinn McCormick, Alabama JSHS ($500 cash award)
Modifiers of Apis mellifera Flight Muscle Metabolism, a Field Study in a Working Aviary
Michael Kaden-Hoffman, Alaska JSHS ($300 cash award)
Phylogenetic Analysis of DNA Sequences Supports Three Reciprocally Monophyletic Species in Dwarf rosebay - Therorhodion (Ericaceae)
Rachel Han, New Jersey Monmouth JSHS (IPad mini)
Celecoxib Off Label: Melanoma and Wound Healing
Ishita Kamboj, North Central JSHS ($100 cash award)
Methamphetamine Compromises the Phagocytic Activity of BV2 Murine Microglia without Compromising Cellular Viability
Marissa Sumathipala, Virginia JSHS ($100 cash award)
The Transgenerational Epigenetic Effects of Environmental Stressors -- Herbicide and Microgravity-- in Drosophila Melanogaster Model
Ashley Wyrick, Missouri JSHS ($100 cash award)
To Choose or Not to Choose: Investigating the Trophic Effects of Thiamethoxam on Euplectrus comstockii when Parasitizing Trichoplusia ni-Year Two
The Army, Navy, and Air Force congratulate these students for their achievements in STEM research. Even as the 53rd Annual JSHS concludes, teachers and students can begin planning for the regional Junior Science and Humanities Symposia that will be held across the country beginning in winter, 2016. Science teachers and students can visit http://www.jshs.org/getinvolved.html to learn more about JSHS regional and national events so they can participate next year.
About JSHS
The JSHS is a tri-service program funded by the Army, Navy and Air Force that encourages high school students to conduct original research in STEM. JSHS sponsors include: Office of the Assistant Secretary of the Army (Acquisition, Logistics & Technology); Office of Naval Research, Arlington, VA; and Air Force Office of Scientific Research, Washington, DC, in cooperation with higher education. The National JSHS Program is administered by the Academy of Applied Science, a non-profit educational organization located in Concord, New Hampshire. Details on the JSHS Regional and National events are available at http://www.jshs.org/.
About AEOP
The Army Educational Outreach Program (AEOP) is comprised of Army-sponsored research, education, competitions, internships and practical experiences designed to engage and guide students as well as teachers in science, technology, engineering, and mathematics (STEM). From elementary school through graduate school, students of all proficiency levels, interests, ethnic, economic and academic backgrounds are encouraged to participate in real world experiences involving these important disciplines. More information is available at http://www.usaeop.com/, at the Twitter handle @USAEOP and at http://www.facebook.com/goAEOP.
About AAS
The Academy of Applied Science was founded in 1963 as a non-profit 501 (c)(3) to operate exclusively for charitable, educational and/or scientific purposes. The Academy has demonstrated over 50 years' experience in the effective delivery and administration of youth science outreach programs designed to support and encourage the future pool of trained STEM talent available to contribute to the nation's scientific and technological progress and to the military's research enterprise. The Academy supports students and teachers nationwide to achieve success in STEM through competitions, STEM enrichment activities for students and teachers, curriculum support for teachers, publications, mentorships, and awards programs.
###