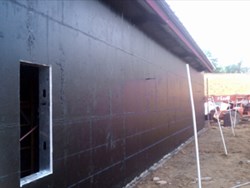 Garland's Aero systems help minimize the potential for mold growth or corrosion within wall assemblies.
Canada (PRWEB) January 03, 2014
Numerous building codes that now include air barrier requirements have created a push for more energy-efficient buildings. To address these changing standards, Garland has engineered a new product line of high-performance solutions that prevent unwanted air, vapour and water from penetrating the building envelope. The Garland Aero-Block™ product line offers solutions for all six planes of the building enclosure, as well as for gaps in walls or between sections of walls.
This new polymer-modified-asphalt technology is available in three versions. The fluid-applied solvent-based polymer and fluid-applied water-based polymer versions can be applied by brush, spray, or roller. There is also a pre-fabricated, self-adhering multi-layer membrane. The entire Aero-Block family creates vapour-closed protection, meeting the requirements for a Class I air/vapour barrier.
According to Charbel Boulos, P.Eng, president of Garland Canada Inc, "Garland's Aero systems help minimize the potential for mould growth or corrosion within wall assemblies. They also protect building occupants from pollutants, cooking odors, noise, and pollen. These barriers include all the product components necessary to provide the best solution for your building and ensure long-term performance of your air barrier system."
A companion vapour-open product line, Aero-Perm™, will become available later this year. Aero-Perm will offer the same capabilities as Aero-Block™ systems, while providing permeability to water vapour.
Garland Canada Inc. provides solutions for today's commercial building industry to private and public sector customers coast to coast. Founded in 1987 as a fully owned subsidiary of Garland Industries, Garland Canada is a multi-million dollar business with employees strategically located throughout the country, who help stimulate each regional economy by working with an extensive network of locally based roofing contractors to install high-performance roofing, wall, and flooring systems. For a free roof or building envelope inspection, visit http://www.garlandcanada.com or call Marisa Rea at 1.800.387.5991.