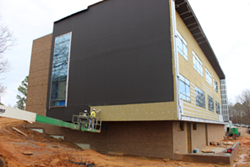 Controlling air leakage into and out of a building is critical in terms of improving energy efficiency…
Cleveland, Ohio (PRWEB) April 13, 2015
Garland's new Aero-Perm line of permeable air and water barriers are designed to create healthier and more energy efficient buildings by forming a flexible blanket of protection over the exterior wall assembly and controlling the movement of air through the building envelope. Numerous studies have shown that air leakage contributes to condensation, moisture development and energy loss in the wall assembly.
Aero-Perm WB is a fluid-applied, water-based barrier that allows moisture vapors to pass through porous building materials, reducing the chances for mold growth in the wall assembly. It also cures to a tough, flexible membrane capable of accommodating building movement while controlling air leakage into and out of conditioned living spaces. Aero-Perm WB air leakage rates test below detectable limits, providing superior air leakage resistance and promoting energy efficiency. Aero-Perm WB can be used as an air, vapor and water control layers in rainscreen assemblies.
Garland also offers a self-adhering version, Aero-Perm SA. It is a pre-fabricated, self-adhering air and water barrier membrane specifically engineered for vertical air and water barrier applications where the membrane is protected from long-term ultra-violet exposure. Aero-Perm SA will adhere to metal, concrete and masonry, OSB, plywood and exterior gypsum boards.
Garland product manager, Tom Stuewe, explains, "Controlling air leakage into and out of a building is critical in terms of improving energy efficiency and easing the load on the building's HVAC systems. Garland's Aero-Perm WB and Aero-Perm SA control the movement of air through the building envelope, creating better, more efficient buildings."
The Garland Company, Inc. is one of the worldwide leaders of quality, high-performance roofing and building envelope solutions for the commercial, industrial and institutional markets. For over 100 years, Garland has continually developed unique product and service offerings that have raised the bar of performance while exceeding the individual needs of customers throughout the world. Today, our network of over 200 local building envelope professionals is ideally positioned throughout the United States, Canada and the United Kingdom to provide quality building envelope solutions for single and multi-property facilities. The Garland Company Inc., headquartered in Cleveland, Ohio, is an ISO 9001:2008 certified company.
For more information, visit http://www.garlandco.com or call toll-free to be connected with your local Garland representative at 1.800.321.9336.