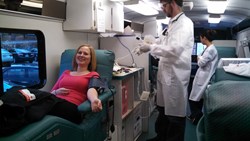 The most recent blood drive saw almost one-third of Asheville office employees lining up to give blood.
Asheville, NC (PRWEB) November 22, 2013
Every year, over five million people in the Unites States need blood. That works out to about one person needing blood every two seconds. Add to that the fact that only thirty-eight percent of the population can give blood (while everyone can receive it) and you can see the monumental task the American Red Cross faces every year. And while no single organization can possibly meet those needs, collectively, if enough folks get involved, the severe blood shortage in the country could be eliminated—or at least that's Aeroflow Healthcare's mission.
That's why the healthcare and medical supply company has worked hard to promote blood donations among its own employees. As a leader in the industry, Aeroflow Healthcare's leadership feels that it's vital that the company stay engaged in being an active part of community service.
Based in Asheville, North Carolina, a town known nationwide for its excellent healthcare, Aeroflow is strategically positioned to help lead the community in service projects. In fact, the company has already joined other local, civic-based benevolent organizations to help promote local business and healthcare in the region.
Being involved in healthcare brings special responsibilities, the company believes. It also means that both the leadership and staff are aware of the perishable nature of blood products. That's why they have had three consecutive years of blood drive engagement with the most recent drive seeing almost one-third of Asheville office employees lining up to give blood.
As more companies like Aeroflow become socially aware and responsible, here's hoping that America's blood shortage can come to an end.