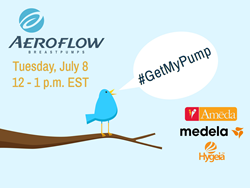 The goal is to ensure that every pregnant mother knows about breastpumps through insurance benefits.
Asheville, NC (PRWEB) July 01, 2014
Aeroflow Breastpumps will be hosting a Twitter Chat to help educate expecting mothers about the Affordable Care Act and breast pump coverage through insurance plans. This Q&A session is aimed to address the concerns and questions that mothers have regarding their breast pump insurance coverage. Aeroflow Breastpumps has assisted thousands of mothers in getting Medela, Hygeia and Ameda breast pumps covered 100%, and the goal is to ensure that every pregnant mother knows about this benefit.
Aeroflow has also invited industry experts to attend including Medela, The Bump, The Boob Group, New Mommy Media, Double Leche, insurance specialists, lactation consultants and Affordable Care Act representatives. Women who have received their breast pump through Aeroflow Breastpumps will also be available to share their experiences and assist in answering breast feeding and breast pump questions.
The Affordable Care Act mandates that insurance companies must provide breastfeeding support for new mothers. However, the extent of coverage varies among different insurance plans. Although millions of mothers have received their breast pumps at no out-of-pocket cost through insurance, there are still many mothers who either do not know about their coverage benefits, or have additional questions about their insurance plan.
On Tuesday, July 8 from 12 p.m. to 1 p.m. EST, Aeroflow Healthcare will be answering questions such as:

What kind of breast pump can moms get under the ACA?
How do moms start the process and how long does it take?
If the insurance company says a plan is grandfathered and doesn't cover pumps-what can mom do?
What about Medicaid? Do they cover breast pumps?
How soon can moms get a breast pump?
For moms who've never pumped before- any advice to make it easier?
How To Join:
1. Sign up or log in to Twitter.
2. Visit the @AeroBreastpumps Twitter profile on July 8 at 1 p.m. and click on the #GetMyPump hashtag.
3. Start chatting and asking questions! Include #GetMyPump on all Tweets so everyone can see them and respond.
A door prize will also be given to all attendees as a thank you for their participation. Additional questions about the Twitter Chat and be tweeted to @aerobreastpumps or call 888-345-1780 to speak with an Aeroflow Breastpumps representative.