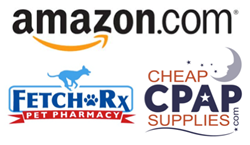 Asheville, NC (PRWEB) September 26, 2013
CheapCPAPSupplies.com and FetchRx Pet Pharmacy, two quickly growing online stores based in Asheville, North Carolina, have joined forces with Amazon, the world's largest online retailer to offer customers easier access to their products.
CheapCPAPSupplies.com was launched in order to help patients with sleep apnea acquire supplies for their CPAP machines by mail at affordable prices. With the rising costs of healthcare and healthcare products, the company maintains a commitment to serve the public by reducing costs while offering excellent service with customer-friendly guarantees—like their risk-free, thirty day trial on CPAP masks. Now, by joining with Amazon, customers can get easy access along with customer reviews on products. The Amazon link also makes it easy to scan all the company products in a way familiar to consumers who already use Amazon. This new venture promises to be a plus for the company as well as they continue to increase sales and market share.
FetchRx Pet Pharmacy has joined Amazon in order to do the same: offer their gargantuan assortment of pet supplies to a larger market. And while the company does not offer pet medications through Amazon, they do offer just about everything else (pet medications can only be purchased at http://www.FetchRx.com). Need a training collar for a hunting dog? They've got them. How about a pet gate? Yep. Feed and water bowls? Of course. Toys, safety devices, litter boxes, leashes, dog beds, grooming supplies, flea collars—and on and on. They even carry bird feeders and supplies for wild bird lovers, so if a customer is more interested in wild animals, FetchRx Pet Pharmacy can help there.
Of course, if customers have specific needs or questions, both companies maintain up-to-date websites where folks can directly contact customer service representatives. Both companies offer great customer service, satisfaction guarantees and online support. For pet owners who need pet meds, http://www.FetchRx.com also offers a wide variety of medicines along with friendly advice and even an online learning center that discusses a wide variety of topics from choosing to training to treating your pets. Both CheapCPAPSupplies.com and FetchRx Pet Pharmacy are divisions of Aeroflow Healthcare, which have been in the medical supply industry and caring for patients nationwide for over 12 years.