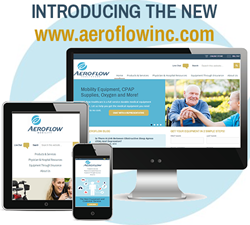 Asheville, NC (PRWEB) June 15, 2014
The new website – http://www.aeroflowinc.com - launched yesterday, will provide patients with a way to sort through the noise to find and understand information about getting medical equipment through insurance. Aeroflow Healthcare has taken on the rebranding in order to provide a better user experience, and promote company growth in the Southeast and nationwide.
The website is part of a broader strategy set Aeroflow apart from others in the industry by the content and tools provided on the site. These tools include patient/parent education resources, cost savings calculator for making informed decisions to get equipment through insurance or buy online, search site content and Aeroflow blog, medical equipment lookup-tool by zip code, and forms that make qualifying online easier than ever. Visitors no longer need to dig through the entire site to find the medical equipment or information they're looking for; simply click the product or service interested in and be redirected to that specific content.
Both patients and physicians are increasingly turning to the Internet for information. "We realized Aeroflow's website is a first-impression to many seeking medical equipment or cost-assistance through insurance," states Online Marketing Manager, Maria Eilers. "The new website does a better job reflecting our mission to provide quality care by offering more for the convenience of those we serve."
The launch of Aeroflow Healthcare's website marks the start of what is hoped to be a 'time of improvement', where the company sets its focus and goals around reinstating their reputation and fulfilling their mission: providing quality care from the first breath of life to the last.
"There can be no doubt that Aeroflow Healthcare is a leader within the medical equipment and patient care industry in the Southeast," says Josh Hill,
Director of Business Development at Aeroflow Healthcare. "The new website allows us provide better care to more patients and become a leader nationwide."
Aeroflow is an accredited Medicare and Medicaid medical equipment provider and also accepts most commercial insurances. Their qualified staff offers over 13 years experience in helping patients receive mobility, respiratory, sleep apnea and other medical equipment. Aeroflow is also the parent company of FetchRx Pet Pharmacy and CheapCPAPSupplies.com. For more information, visit http://www.aeroflowinc.com or call (888)-345-1780.