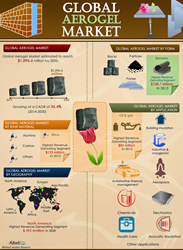 Aerogel is a highly efficient insulator, and is superior to conventional alternatives in terms of thermal resistivity and lightness.
Portland, OR (PRWEB UK) 12 August 2014
According to a new market research report by Allied Market Research titled, "Global Aerogel Market (Raw Material Type, Forms, Applications, Geography) - Industry Analysis, Trends, Share, Opportunities and Forecast, 2013- 2020", the global aerogel market is forecast to reach $1.8 billion by 2020 registering a CAGR of 36.4% during the forecast period (2014 - 2020). The report indicates that North America is presently leading the aerogel market; however, Europe is poised to outperform North America by 2020.
It is estimated that North America and Europe will jointly account for about two-thirds of the market revenue by 2020. The market is expected to grow from 105.6 million sq ft in 2013 to 953.1 million sq ft by 2020 in terms of volume. The thermal insulation properties of aerogel would engender the increased adoption of aerogel blankets, which are expected to replace current insulation materials such as fiber glass, plastics, etc. in various industries such as construction and oil & gas.
Get full access of the report at http://www.alliedmarketresearch.com/aerogel-market
Aerogel is a highly efficient insulator, and is superior to conventional alternatives in terms of thermal resistivity and lightness. However, its exorbitant price as compared to the conventional alternatives restricts its mass adoption and confines it to sophisticated applications in oil & gas industry, defense and aerospace. Nevertheless, extensive research conducted to develop cost effective aerogel has led to its emergence as one of the best alternatives for applications such as automotive, healthcare, chemicals, electronics, and building insulation. Due to favorable government policies pertaining to green infrastructure in European and Middle Eastern countries, widespread adoption of aerogel is anticipated, especially in the building insulation segment. In the meantime, the need for efficient and easy to install thermal insulations, higher thermal resistance, thinner & lighter solutions for industry purposes, and reusability has also boosted the market growth.
Silica aerogel is projected to be the most promising segment, mainly due to its efficient insulation properties and lightness. The others category of aerogel which mainly includes polymers, seagel and chalcolgel is anticipated to grow at the fastest CAGR during the forecast period. The substantial growth of the others segment is mainly attributed to polymer aerogel, which is emerging as an efficient and cost effective heat insulator.
The oil & gas segment leads the global aerogel application market in terms of both, value and volume through 2020. Acoustic Insulation, building insulations and electronics applications segments are also expected to witness significant growth. Various upcoming green infrastructure policies across the world, especially in Europe and the Middle East, are expected to drive the building insulation market during the analysis period.
The report analyzes the top winning strategies of prominent players in the market. The companies profiled in the report include Aspen Aerogels, Inc., American Aerogel Corporation, Cabot Corporation, Dow Corning Corp., Svenska Aerogel AB, BASF SE, Airglass AB, JIOS Aerogel, Active Space Technologies and Acoustiblok UK Ltd.