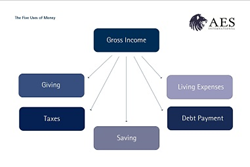 Risk is not the volatility of the investment markets; it is the failure to achieve our client's objectives.
(PRWEB UK) 23 September 2014
All too often in financial services, the start of a conversation on expat retirement planning is a regular savings plan or investment risk. Here at AES International, retirement planning for expats is approached differently.
"Life is full of risks and like it, or not, the financial adviser's job is to minimise them. Risk is not the volatility of the investment markets; it is the failure to achieve our client's objectives".
Alarm bells should ring if a financial planner discusses financial products in the first meeting - or even second. While they of course have an important place, these products are merely the tools to get clients to their desired 'magic number' - the amount they need in order to have the lifestyle they desire in retirement.
The starting point should be a holistic conversation about how a client spends their current income. There are only 5 uses of money, so reviewing how it is spent and where priorities lie can be a reasonably simple, yet revealing exercise.
Next, an independent financial planner should want to discuss goals, dreams and ambitions, helping a client calculate the cost of each, along with their current assets, income and debt. Through using a sophisticated lifetime cash flow model, a client will then be presented with a picture of the future under different financial return scenarios.
In doing this, a private client adviser has a clear picture of the investment rate of return their clients need to grow their assets by each year (and in different scenarios) to achieve their goals. There are typically 4 investment risk outcomes. The aim should be to help clients to determine which they need to commit to, order to achieve their goals.
The next step is to ask clients to undertake a personal financial risk profiling questionnaire. This involves a series of questions aimed at creating a starting point for a conversation on risk tolerance. The actual level of risk a client will need to take will be defined by their objectives and goals, and discussed thoroughly with their private client adviser.
This new model approach has seen AES win in excess of 20 financial awards in the last 5 years, including Best International Financial Planning Firm. Taking the time to fully understand a client's goals and dreams is paramount - and more importantly, a good financial planner will want a client to have financial freedom and retire on time. This new lifetime cash flow modelling service can help expat clients plan for the future, although nothing is certain, using this technique gives us all more certainty than before.