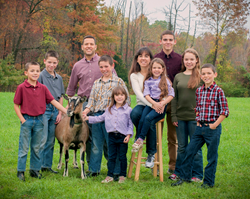 AFA Journal said: It's this reality of God that the Jonas family longs to bring to others through Goat Milk Stuff.
Tupelo, MS (PRWEB) April 01, 2014
PJ Jonas, mom of 8 and founder of the online family business at http://www.GoatMilkStuff.com, told the AFA Journal Magazine that "children don't magically become adults once they turn 18 and parents need to build maturity into their children from the time they are small in an effort to prepare them for adulthood."
The AFA Journal spotlighted the Jonas family in an inspirational article headlined "God, Grit and Goats," reporting how PJ and Jim Jonas focus on Christian values and with the help of their children, built Goat Milk Stuff into a "booming family business" of goat milk soaps, lotions and more.
In the April 2014 issue of AFA Journal, writer Rebecca Davis said, "Goat Milk Stuff is primarily an Internet-based business that functions with God and family at its core." Working together on their farm in Scottsburg, Indiana, the Jonas family makes natural goat milk soaps, lotions and more for customers across the USA and worldwide.
The AFA Journal is a monthly magazine of the American Family Association, whose mission is "to inform, equip, and activate individuals to strengthen the moral foundations of American culture."
"For us, everything is integrated: school and work, the business, God; all of that touches every single aspect of our lives," PJ said.
"Being able to work together as a family, we teach our children our beliefs, morality and work ethic to better prepare them for the lives that God wants them to live," said Jim. Reflecting this work ethic, the magazine opened its feature article with the Jonas family's Goat Milk Stuff motto, "Work hard. Get dirty. Use good soap."
Each of the 8 homeschooled Jonas children, ages 6 to 17, help in age-appropriate ways. The youngest are girls, Indigo and Jade, who help by putting soap in bags while big sister Brett, 17, oversees shipping. Colter, who helps Jim make soap, leads boys Emery, Fletcher, Greyden and Hewitt, who milk goats, clean the barn and do other chores. Each child gets a salary and participates in company decisions as they learn about business, along with homeschooling subjects including math, science, history and Bible study.
In reporting about the Jonas family and its business, the American Family Association Journal said, "The work ethic Jim and PJ instill in their children comes from Scripture verses such as Ecclesiastes 9:10 and 1 Thessalonians 4:11. The children's writing, speaking and math skills are sharpened through business interactions. Furthermore, seeing God meet needs through Goat Milk Stuff strengthens their trust in Him."
In the two-page AFA Journal article that includes family photos, the magazine noted: "It's this reality of God that the Jonas family longs to bring to others through Goat Milk Stuff. It's about more than providing customers with quality soap products. It's about giving God the glory as He uses those products to improve and even heal people's skin conditions. And it's about the Jonas family being a real reflection of Christ in every aspect of their life and business."
PJ said, "Everybody who buys soap from us is a person, a person with feelings and with struggles and problems. So you have to try every single time that you interact with people to be a light. It's not only that you're out there telling them that Jesus saves, but you're also showing them that you care. Jesus always put people first. That's what we try to do."
In addition to the AFA Journal, other media has reported about the Jonas family, such as Chicago's WGN TV interview and national network TV's Today Show and The Doctors, which featured the family and Goat Milk Stuff's healthy products that help skin, as well as Oprah Magazine and others.
The Jonas business maintains an active social media presence with a growing following at Facebook.com/GoatMilkStuff, YouTube.com/GoatMilkStuff and at Twitter.com/GoatMilkStuff.
Online at GoatMilkStuff.com, the Scottsburg, Indiana company makes and markets all-natural Goat Milk Stuff™ products including goat milk soaps, lip balms, lotions, bath bombs, laundry soap, soy candles and more. For media or entertainment, contact Brian Dobson at DobsonPR.com or BD (at) DobsonPR.com.