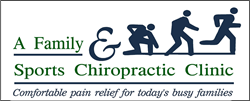 Why suffer when you can be pain free?
Vancouver, WA (PRWEB) June 15, 2015
A Family and Sports Chiropractic Clinic in Vancouver WA recently treated a patient who suffered from daily headaches, severe neck stiffness, severe neck pain, upper back pain, lower back pain, and tingling down the arm following a car accident. This pain had led to disruptions in her daily activities, such as her ability to play with her children, disruptions in her sleep, difficulty concentrating at work, and even her ability to cook for her family.
The doctors at A Family and Sports Chiropractic Clinic want to take this opportunity to stress that individuals who have been in an auto accident should be aware of the risk for whip-lash injuries, which can make it difficult to get through daily life. The aforementioned patient went through a very thorough exam and a series of x-rays before the doctors were able to diagnose her pain as whip-lash and assess the severity of her condition. Her injuries included multiple areas of ligamentous damage, muscle strain, and nerve root impingement. Her unique treatment plan included a combination of chiropractic manipulation, massage therapy, therapeutic exercises, and myofascial release. Following treatment, not only was she able to recover 100%, she got back to the activities she loved, like playing with her children, without the symptoms that initially left her inhibited.
Dr. Chani Henderson is a Chiropractor at A Family and Sports Chiropractic Clinic and she believes that it is extremely important to seek chiropractic care as soon as possible following a car accident. She says "People should get in to see a DC as soon as possible after an accident. It's important for them to get care so that they can make sure their ligaments and muscles heal up in the proper position in order to avoid future issues from improper healing."
Henderson also wants her patients to know that "concussions and fractures cannot be treated through chiropractic care." These conditions should be brought to the attention of other medical professionals as they will require a more serious treatment plan.
About A Family and Sports Chiropractic Clinic
A Family & Sports Chiropractic Clinic is located in Vancouver, WA. They believe that chiropractic care is healing your body from the inside out. Dr. Chani Henderson and Dr. Michael Hajari have worked with thousands of patients and are passionate about watching them find freedom as they liberate their body from pain through their chiropractic care. Both chiropractors dedicate their time to the community through outreach programs that provide health screenings for Clark County residents. A Family and Sports Chiropractic Clinic helps patients who suffer from injuries resulting from auto accidents, pregnancy, and sports. They also treat a variety of other general chiropractic related issues.