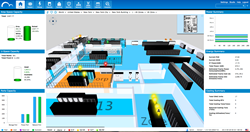 Jennifer Koppy, Research Manager at IDC states, 'Visual Cloud Manager provides the information and control IT organizations must have to create agile and efficient datacenters.'
Orlando, Florida (PRWEB) September 30, 2013
"Visual Cloud Manager™ is a very exciting new software product that highlights our 13-year history in both IT and DCIM," said Steve Webel COO Optimum Path Inc. "Client segmentation, managing revenue leak, over-subscription, dynamic power provisioning, client service impacts and new differentiated services are problems that plague the market and are atypical of our DCIM software Clients. We believe we have developed a specialized platform that provides immediate benefits to operators who run their data centers and provide services as a business."
VCM offers 3D visualization on an open web portal, which is personally configurable, simultaneously supporting multiple unique users and tenants. The SaaS based Application is available on either a Public or Private Cloud/Hybrid, supporting all mission critical infrastructure, offering enhanced visibility, agility, efficiency, and front-to-back office services to data center clients.
"Essential to the success of cloud orchestration is establishing a holistic view of all physical, virtual, and environmental elements to enable informed decision making on service optimization, capacity, availability, and cost-effectiveness," noted Steve Brasen, Managing Research Director with Enterprise Management Associates™. "With the introduction of Visual Cloud Manager, Optimum Path provides the critical visibility for mapping cloud and virtual fabrics with the underlying physical and environment components that support them."
"The emerging hybrid datacenter environment to support the extended enterprise has created a new set of requirements for real-time management and control of datacenter resources," stated Jennifer Koppy, Research Manager at IDC. "Visual Cloud Manager provides the information and control IT organizations must have to create agile and efficient datacenters."
Optimum Path Inc. will provide demonstrations of Visual Cloud Manager during this year's Data Center World Conference in Orlando, FL, http://www.datacenterworld.com/fall/. Please visit us at booth #327. For additional details, please visit our website at http://www.optimumpathinc.com.
About Optimum Path Inc.:
Optimum Path Inc.™ is a global leader in the development of software for advanced visualization and planning of IT physical and logical infrastructure for cloud based applications and services. Our brands are sold through resellers, directly to end-users, and re branded through our OEM partners. Our Visual Data Center™ software has been in production since 2007, creating financial benefits for owners and operators of many of the largest data centers in the world. For more information, please visit our website at http://www.optimumpathinc.com.
All trademarks or registered trademarks are the property of their respective owners and are used for identification purposes only.