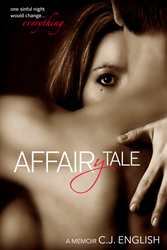 "After being rejected by dozens of agents, I decided to self-publish. I was scared to put this story out there, flaws and all, but it had a message I felt needed to be heard."
Fargo, ND (PRWEB) July 08, 2015
C.J. English, a North Dakota-based author, launched her memoir AFFAIRYTALE on May 20, 2015. It soared onto Amazon Kindle's Top 100 in five categories within 30 days of its release, hitting #4 in Love & Romance and #1 in Diaries and Journals.
"After being rejected by dozens of agents, I decided to self-publish. I was scared to put this story out there, flaws and all, but it had a message I felt needed to be heard," said C.J. "I pulled in beta readers, had a cover designed and hired two editors. My Publicist/Creative Director and I then took Twitter, Instagram, Facebook and Pinterest by storm, while reaching out to avid readers and bloggers to earn reviews on Amazon and Goodreads. Reviews began posting and the majority were four or five stars. It was happening!"
English continues to share AFFAIRYTALE with the masses with the goal of becoming a New York Times Best Seller. She has also written a weight loss/cookbook, which she plans to publish in the future. "A Love & Romance memoir is not what I originally planned. It's dramatically different, but it's speaking to people," English noted. "That is exactly why I decided to publish it."
English continues to work full time at a local university wellness center, while making her dreams come true after the kids are in bed at night.
C.J. English is an Amazon Kindle Best Selling Author in Love and Romance. She made her debut with the sexy and scandalous memoir AFFAIRYTALE. C.J. lives happily ever after with the man of her dreams and their growing family. She is a lover of life and sushi, wine and wandering, and lives as wholeheartedly as she writes. When not spending quality time with her family or laptop, you can find her in the kitchen with a stopwatch trying to set a new world record for slicing vegetables. C.J. is a passionate vegetarian and consistent rule breaker.
See what reviewers are saying on Goodreads.
###
For review copies or interviews with C.J. English, please contact Amanda McKinnon at affairytalebook(at)gmail(dot)com or 701-371-8369.