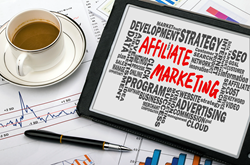 With really friendly, helpful messaging and phone-based support, affiliates respond by promoting the company because they feel like they are truly in a partnership with the merchant.
Fort Lauderdale, FL (PRWEB) October 01, 2015
Experience Advertising, Inc. a leading digital marketing agency based in Fort Lauderdale, FL, has retained their #1 ranking atop the list of the 30 best affiliate marketing companies in the United States, according to TopSeos.com a leading digital agency review company.
Experience Advertising was founded in 2007 by ecommerce marketing veteran Evan Weber to address the need ecommerce merchants had for effective management of their affiliate programs, as well as growing their programs through proactive affiliate recruiting outreach. Weber stated, "I started this agency to help companies grow their affiliate programs through the processes and procedures I perfected for one particular merchant over a 5 year period. We were able to recruit more than 10,000 affiliate marketing partners and had several thousand producers. This type of dramatic growth is only attainable through very proactive affiliate recruiting processes including: leveraging the big affiliate networks' recruiting tools, affiliate website contacting, search engine advertising, and social media advertising. You can really ramp up the number of affiliates in the program by utilizing all of these channels, but it requires a budget that not all companies are prepared to spend. Most times we are able to work with whatever budget the client has to grow their affiliate program."
Weber also believes strongly in having excellent affiliate messaging going out to affiliate partners on a frequent basis. "Having great affiliate messaging and support is key to getting the rate of active affiliates up over time. With really friendly, helpful messaging and phone-based support, affiliates respond by promoting the company because they feel like they are truly in a partnership with the merchant. Our affiliate managers, myself included, are constantly building the relationship with all of our affiliate partners. I believe strongly in this approach and believe that we are the best in the industry at this type of affiliate management approach."
Experience Advertising has been growing affiliate programs for more than 8 years. They have built up an excellent reputation in the affiliate marketing industry among affiliates and web publishers. Weber continued, "I'm most concerned with how the affiliate marketers we work with feel about my agency. Every phone call and email exchange is another opportunity to build the relationship with each and every affiliate, regardless of size. When an affiliate tells me how thankful they are that I gave them constructive feedback on their website or helped them access the HTML code for their affiliate banners, it's a great feeling. When they tell me there's no one like me out there and they are so glad they had a chance to speak to me or read my articles, it propels me forward to write more helpful articles and record more webinar videos. I truly love working with our affiliate partners and believe that the ultimate affiliate manager should be available on a 24/7 basis and is someone that can help an affiliate become a better online marketer. This is what I try to exemplify on a daily basis."
Evan Weber and Experience Advertising definitely have the passion it takes to run large affiliate programs and make them grow over time. They will even provide prospective clients free evaluations to see if they are the right agency for their needs. Contact Experience Advertising if you are interested in learning more about growing your current affiliate program or launching a new affiliate program.
You can view the rankings of the top affiliate marketing companies ranked 1 through 30.