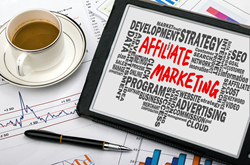 We strive to give our affiliates the best possible experience as well as the best performing ad units. - Evan Weber, CEO
Fort Lauderdale, FL (PRWEB) November 17, 2015
Experience Advertising, a leading Internet marketing agency with a cutting-edge affiliate management division, has been recognized as the top affiliate marketing company for November 2015 by TopSEOs.com. TopSEOs.com is an independent advertising agency review company that ranks agencies based on several categories including: agency performance, client references, and overall processes. Experience Advertising has been in the #1 spot on the particular list for several months in a row.
Evan Weber, CEO of Experience Advertising, Inc. stated about the company's ranking #1, "We are honored to be ranked #1 on this list because we put a lot of effort into doing what we do better and more effectively than other agencies. That extends from the front-end outreach and affiliate recruiting processes, to the quality of our affiliate messaging, to our 24/7 affiliate support. It's harder and more work to do it like we do it, but we believe it's more effective at growing an affiliate program and worth the time and effort."
Experience Advertising has been managing affiliate programs for companies for more than 8 years. Weber himself has been involved with managing affiliate programs since 2002, and in marketing websites on the Internet since 1997. Experience Advertising utilizes various larger scale "affiliate networks" as well growing "inhouse" affiliate programs which are specific one merchant. Experience Advertising is renown for their affiliate recruiting strategies which include proactive website prospecting, advertising on Facebook, and Google for affiliates for their clients. Weber continued, "we are passionate about recruiting affiliates because we know how had it is to recruit enough of the right types of affiliates. We are able to know the affiliates of any company or in any category, and then do a tremendous amount of personalized outreach to recruit them as affiliates of our clients. You won't find any other affiliate agency or OPM doing this anywhere near to the extent we do, if at all. They rely on what affiliate networks can bring them, which is most instances isn't enough to grow the channel properly and meet client expectations."
When it comes to affiliate management, Experience Advertising has skilled affiliate program managers and full time content editors. Weber concluded, "Not only to we send a higher volume of affiliate newsletters, we send better designed and written newsletters. Also the quality of the designs of our affiliate banner ads is top-notch and designed for direct response. All aspects of the the affiliate experience with our programs are optimized. We strive to give our affiliates the best possible experience as well as the best performing ad units. If you compare our quality of work to other agencies you will see a big difference in the quality all around. It's what sets us apart and makes us more effective in my opinion."
If you are looking to grow your affiliate marketing channel, visit Experience Advertising for a free consultation about your affiliate program options. Experience Advertising also delivers industry-best agency services including: PPC, SEO, video production, social media management, Facebook advertising, Twitter advertising, Instagram advertising, lead generation, B to B advertising, website conversion optimization, visitor retargeting, and shopping engine management. They are a full-service Internet marketing agency that has been in existence since 2007.