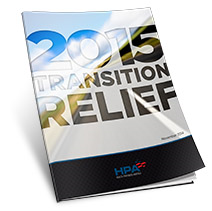 To make the transition a little easier for individuals and employers, the law provides several forms of relief for those who qualify. The problem is that, like many parts of the law, the rules are unclear...
BIRMINGHAM, ALABAMA (PRWEB) November 25, 2014
Health Partners America (http://www.healthpartnersamerica.com), a company that provides training, tools, and technology solutions for insurance agents and employers who are navigating the health reform legislation, announces the release of its new white paper – 2015 Transition Relief. This very timely 14-page document was written to help health insurance agents and brokers better advise their clients about the transition into ACA-compliant plans and the law's employer mandate.
The Affordable Care Act (ACA) has a huge impact on both individuals and employers, but that impact is different for different market segments. Individuals and families, for instance, can purchase health coverage regardless of pre-existing conditions, but the "guaranteed issue" provision and enhanced benefits drive up the price significantly for anyone who doesn't qualify for a government subsidy. Many small employers will also see their premiums increase due to the new community rating rules. Large employers, on the other hand, are not as susceptible to rate hikes but could pay a penalty if they fail to offer affordable coverage.
To make the transition a little easier for individuals and employers, the law provides several forms of relief for those who qualify. The problem is that, like many parts of the law, the rules are unclear and many people have had trouble determining if they can take advantage of the money-saving options.
For example, in the individual and small group markets, which are more impacted by the market reforms than the large group market, insurance companies have the option of renewing old, non-compliant plan designs through October, 2016, but they don't have to make the same decisions for each line of business and states can block this practice. There's also some confusion about whether bigger companies that originally purchased coverage in the small group market but have since added employees will be able to renew their existing plans.
For large employers, there are several different types of transition relief. One option allows certain companies with non-calendar-year plans to wait until renewal time to get into compliance, but eligibility is based on the percentage of employees eligible or enrolled in coverage on a fixed date in the past. Another option allows companies with fewer than 100 employees to avoid shared responsibility penalties in 2015, but only if they keep doing what they were doing before. This may require companies that already offered group health coverage to keep doing so in 2015 while those who haven't offered coverage in the past may be able to wait another year. And for larger employers who are required to provide health coverage in 2015, a third option reduces the penalty if they choose to drop their plan altogether.
"This is just another example of why agents need to study the law," says Mel Blackwell, CEO of Health Partners America. "Many of the news stories about transition relief have been misreported, causing both employers and agents to make bad decisions." Blackwell tells the story of an agent who advised a 75-person group that they could drop their coverage in 2015 and pay no penalties, which is actually incorrect. "The agent made two mistakes," says Blackwell. "First, he didn't realize that employers who drop their coverage don't qualify for the transition relief, and second, the penalty calculations are different for companies with more or less than 100 employees."
Blackwell is quick to point out, though, that dropping coverage was actually the right decision for this particular group. "A lot of companies will do well to abandon their group health plan and let their employees take advantage of the government subsidies," he explains, "but they do need to understand the financial implications of the decision. Even if it's the right thing to do, you don't want to surprise your client with a 90-thousand-dollar bill from the IRS."
Health Partners America is offering the full report at no cost through the company's website.
About Health Partners America
Since 2007, Health Partners America has been providing game-changing training and solutions to agents and brokers nationwide. HPA is a technology and consulting company that works with and through brokers in order to engage with the marketplace through healthcare reform. HPA Partners with agents and brokers nationally to bring them technology solutions, private exchange sites, marketing tools, training, and leverage to help them be more successful.
###
If you'd like more information about this topic or about HPA, please contact Katie Burns at media(At)healthpartnersamerica(Dot)com or visit http://www.healthpartnersamerica.com.