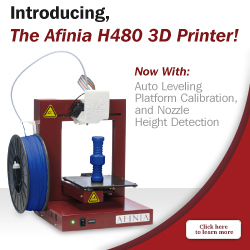 The "Easiest-to-Use" Desktop 3D Printer just got even easier.
Chanhassen, MN (PRWEB) March 12, 2014
Afinia's award-winning H-Series Desktop 3D Printer family has a new member: The H480.
The Afinia H-Series debuted in 2012 and was named "Best Overall Experience," "Easiest To Set Up," and "Easiest To Use" over 14 manufacturers in Make Magazine's 2013 "Ultimate Guide to 3D Printing." The review hailed the Afinia as a stand out, naming it "one of our favorite 3D printers," and pointing out that "straight out of the box… we printed some of the best-looking examples of the challenge prints." The review concluded with the high praise, "the Afinia offered the best printing quality with the least amount of effort".
The H480 retains all of the great "Out-of-the-Box" printing features of its predecessor and adds Auto-Leveling Platform Calibration and Nozzle Height Detection. This makes setup a breeze and increases the already high printing reliability of the Afinia H-Series 3D printer.
"The H480 is the next improvement in our Desktop 3D Printer product line," remarked John Westrum, Afinia's Vice President. "We are constantly looking for ways to make it easier for our customers to use our printers and platform leveling and height detection were logical next steps."
Platform leveling is accomplished by attaching the Platform Calibration Probe to the extruder head, and selecting Auto-Level from the included 3D printing software menu. The process takes a bit more than 2 minutes. Nozzle Height Detection is done by connecting the supplied data cable from the H480 to the platform and selecting Nozzle Height Detect. Height Detection takes about 20 seconds.
Overview Video of H480 Desktop 3D Printer
The Afinia H-Series can print models up to 5" x 5" x 5" with output accurate to within 150 microns (6 thousandths of an inch). Afinia's 3D printing software imports STL files, which can be created with CAD/CAM software or downloaded from a growing number of online libraries. It then automatically generates the support material that the design requires for the print process. The Afinia H-Series connects to a PC or Mac with a USB cable. When printing, the Afinia stores the print job in its onboard memory, so users are free to unplug the USB cable. The Afinia 3D printer uses inexpensive plastic filament that is available in more than 20 different colors.
The H480 3D Printer is available immediately from Afinia and its channel partners.
Afinia is a division of Microboards Technology LLC, is a leader in specialized printing solutions. Their twenty-year history includes leadership in disc duplication and labeling and, most recently, 3D Printing. More information can be found at http://www.afinia.com, Facebook , Twitter or by phone at 1.888.215.3966.