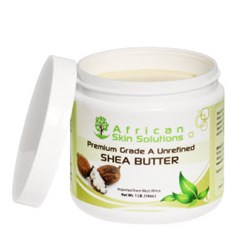 "For years I have had a problem with cracked heels - no more!! After hundreds of dollars and numerous creams I found Shea Butter and it is wonderful. Heels are smooth! Use it every day. Will definitely purchase more when this is gone." ~Ann
Atlanta, GA (PRWEB) December 02, 2013
Today is the last opportunity to take advantage of African Skin Solutions™' sales event and purchase premium quality raw Shea Butter with a 25% discount. Recently launched on Amazon.com, Certified Premium Grade A Raw Shea Butter has a wide range of applications in supporting healthy skin. African Skin Solutions™ is delighted with the response as customers take advantage of this price reduction.
Certified Premium Grade A Raw Shea Butter is in its purest form. Harvested and imported directly from Africa, this product is carefully tested by the American Shea Butter Institute (ASBI) prior to Grade A certification.
This organization is working hard to set the highest standards for raw Shea Butter. Approximately 89% of raw product exported from Africa is already Grade D according to the ASBI. This means that it's rancid and unsafe. However, low grade batches continue to be sold to unsuspecting buyers. Conversely, African Skin Solutions™ guarantees a safe and effective product.
The applications for Shea Butter are diverse. It is rich in important vitamins, minerals and other nutrients that enhance skin health. The high anti-oxidant content helps to combat free radical damage associated with aging skin. Simultaneously, this product will nourish, rehydrate and rejuvenate skin, leaving it feeling soft and silky. Customers that have tried various Shea Butter products in the past are now turning to African Skin Solutions™ due to their higher-quality product. For Olivia, this unrefined product is the preferred option:
"I did not know what to expect when I ordered this Shea Butter. I had ordered from several suppliers in the past and was satisfied. I was delighted to get African Skin Solutions Shea Butter and did not expect it to be as fabulous as it is. It is very creamy. I did not even have to warm it up in my hands first as I did with the other previous batches from different companies. I was able to put it on my face and body directly from the jar. I appreciated that there was an expiration date on the jar. I will definitely order more."
Additionally, Shea Butter unrefined contains anti-inflammatory properties. This means that it can be very useful in remedying inflammation associated with skin ailments such as:

Psoriasis, eczema, rosacea and other skin inflammation disorders
Insect bites
Sunburn and frostbite
Since raw Shea Butter contains no additives, it is chemical free and very gentle. This makes it the ideal option for anyone with sensitive skin. As a superior moisturizer with plentiful healing properties, regularly applying this product can help to reduce the appearance of wrinkles, blemishes, scars, stretch marks and other skin imperfections.
Customer satisfaction and first-class products are the hallmarks of African Skin Solutions™' philosophy. Thus, their products are sold with a money back guarantee. Available exclusively on Amazon.com in 16 oz. jars, Certified Premium Grade A Raw Shea Butter offers consumers a natural and effective way to maintain healthy skin. Stock is almost sold out and today is the last opportunity to purchase this first-class product with a 25% off coupon code.
###
About African Skin Solutions™
African Skin Solutions™ is a family-owned company based in America committed to providing the highest quality all natural Certified 100% Pure Premium Grade A Unrefined Raw Shea Butter available.
The company truly cares about their customers and only sources Shea Butter that the owner would put on his own skin; therefore, every batch is laboratory tested and certified Grade A by the American Shea Butter Institute (ASBI) (the only way to achieve the Grade A designation).