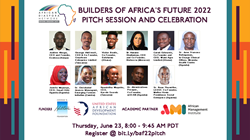 "I invite all investors interested in the African market to meet the BAF entrepreneurs, learn about their enterprises and community impact firsthand, and identify opportunities to support their work."- Almaz Negash, Executive Director of ADN
SILICON VALLEY, Calif. (PRWEB) June 16, 2022
The African Diaspora Network will host a virtual pitch session for the eleven African-led startups that make up the 2022 Builders of Africa's Future (BAF) cohort on Thursday the 23rd of June 2022 at 8:00AM PDT. The pitch session will feature showcases from the Builders and serve as an opportunity to attract funding from a diverse group of investors. The Builders of Africa's Future Program is organized by the African Diaspora Network (ADN) in partnership with Conrad N. Hilton Foundation, the United States African Development Foundation (USADF), and enterprise trainer the African Management Institute of Kenya.
According to Almaz Negash, Founder and Executive Director of African Diaspora Network, "Despite the rise in African entrepreneurship, not all enterprises in Africa are funded equally. Trends indicate that Africa-based enterprises led by non-African, foreign founders are more likely to receive funding. I invite all investors interested in the African market to meet the BAF entrepreneurs, learn about their enterprises and community impact firsthand, and identify opportunities to support their work."
The 2022 BAFs, who were inaugurated on the 27th of April, have undergone an intensive six weeks of mentorship, capacity building, and enterprise training from the African Management Institute, The pitch session will connect the African-owned and African-led enterprises with discerning investors to bridge the investment and funding gap currently experienced by African-owned startups on the continent.
This year marks ADN's fifth annual enterprise accelerator supporting grassroots African entrepreneurs. The 2022 cohort comprises 11 changemakers leading 100% fully-African led and owned organizations spanning six countries: Ghana, Kenya, Morocco, Tanzania, Uganda, and Zambia. More information on the cohort and program can be found in the official BAF 2022 announcement here.
"The BAF program has without a doubt improved my sphere of influence by exposing me to a diverse cohort of like-minded entrepreneurs who I have been able to earnestly learn and garner vast knowledge from," said Victor Boafo, co-founder of Entofarms. "This wonderful program has provided us with invaluable educational and business resources that will be judiciously implemented to foster growth and efficiency within our business operations."
"The Builders of Africa's Future program picked me up from my worst situation. My business was hit with a supply chain disruption, and as a leader, I ran out of creative ideas to navigate this global challenge," shared Hyasintha Ntuyeko, founder and CEO of Kasole Secrets. "Through BAF, I was paired with mentors who have been very instrumental in unlocking new ways of thinking to rescue my business. The program was very helpful, as it gave me more knowledge on financial analysis and tracking my business performance and forecasting risks on a monthly basis. I am truly, truly thankful for being selected as a BAF fellow 2022."
Josh Ghaim, PhD, chairman of the ADN board and Founder and Managing Partner of IgniteGB, Inc., will introduce context setter Thomas Debass, Chief Partnerships Officer and Managing Director of the Office of Global Partnerships at U.S. Department of State. Keynote speakers include Kwasi Donkor, Chief Strategy Officer at the United States African Development Foundation; Sr. Jane Wakahiu, LSOSF, PhD, Associate Vice President of Program Operations and Head of Catholic Sisters at Conrad N. Hilton Foundation; and Segal Family Foundation Executive Director Andy Bryant, and Manager of the African Visionary Fellowship, Beatrice Onyango.
The BAF pitch session will be attended by private and public investors looking to invest in impactful and homegrown startups. Eligible BAF entrepreneurs who meet funding criteria will also receive up to $25,000 from the United States African Development Foundation (USADF).
Interested investors can register to attend the Builders of Africa's Future Pitch Day here or email debra@africandiasporanetwork.org for more information.
About African Diaspora Network
African Diaspora Network (ADN) is a registered 501(c)(3) nonprofit membership organization. Our mission is to harness and engage the intellectual, financial, philanthropic and entrepreneurial capacity of Africans and friends of Africa in support of economic and social development across Africa. Since 2010, the African Diaspora Network has energized collaboration among Silicon Valley entrepreneurs, philanthropists and African Diasporans to uplift its local community towards the benefit of Africa. ADN is dedicated to providing virtual and physical forums to accelerate access to resources that foster partnership, knowledge sharing, and advance investment opportunities. Learn more at africandiasporanetwork.org