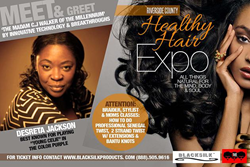 Desreta said: "I am committed to improving the quality of African American hair. When I launched BlackSilk, I wanted to establish a benchmark for the African American market and many told me that people wouldn't invest in the calibre of product that I was
Ontario, California (PRWEB) September 11, 2014
Having great hair is the perfect way to boost self-confidence. BlackSilk Products and CEO Desreta Jackson who is best known for playing 'Young Celie' in the Academy Award-Nominated movie, "The Color Purple," is poised to introduce the highly anticipated luxurious haircare line that brings both quality and healthy haircare products fit for kings and queens. The complete line will be featured at the first Riverside County Healthy Hair Expo on Saturday, September 27th, 2014 from 4pm – 8pm., at Best Western Hotel & Suites, 3400 Shelby St, Ontario, CA 91764.
Speaking of healthy haircare fit for a queen, who can forget Chris Rock's GOOD HAIR; the hilarious documentary addressing the issue that most African American women often face when it comes to their hair and haircare products. As a solution, this expo is the perfect way to educate women of color that by using great natural hair products, their hair will improve as a whole. BlackSilk Products welcomes stylists, consumers, vendors, retailers, and those who are an intricate part of the beauty and lifestyle industries. The event highlights will include product sessions and workshops that encourages attendees to get hands on with their precious mane, and learn all about natural hair care for braids, Bantu Knots and locks. As an added bonus, one lucky attendee will win a six month supply of BlackSilk's best-selling "Silk Hair Growth System."
Desreta said: "I am committed to improving the quality of African American hair. When I launched BlackSilk, I wanted to establish a benchmark for the African American market and many told me that people wouldn't invest in the calibre of product that I was launching. They were wrong."
The event is primed to be fun, entertaining, informative and completely enjoyable for all those who attend. Guests will also have the opportunity to meet and greet with Desreta, who urges everyone to bring a friend. For a limited time only, BlackSilk Products is currently welcoming sponsors and vendors to be a part of the celebration. To attend the expo or to learn more information please visit: http://www.blacksilkproducts.com or call 888-505-9616.
About BlackSilk Products:
Launched in 2011, BlackSilk Products is the first African American luxury haircare line made with eco-friendly, natural and high-end quality ingredients. The company was founded by inventor and acclaimed actress/director Desreta Jackson who is often referred to as the Madame C.J. Walker of the new millennium. BlackSilk Products has received reviews from Natural and Loving It, Innovative Health & Technology Breakthroughs, BET, and RAINE Magazines. To learn more about BlackSilk Products please visit: http://www.blacksilkproducts.com.
For press and media inquiries please contact: info(at)applesandorangespr.com or call 888-371-4718.