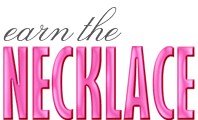 One of the most well-documented and commonly held beliefs is that men prefer to be with younger women, while women prefer men who are older.
New York, NY (PRWEB) September 27, 2013
EarnTheNecklace.com, a revealing and engaging web site with articles written by women who exchange their stories and confessions about being in a relationship with a much older man, is releasing its expert opinion on a recent study that looked at whether age differences matter when it comes to dating.
Researchers at Endicott College in Massachusetts collected available ratings of blind dates from two popular American newspaper columns, "Dinner with Cupid" from The Boston Globe and "Date Lab" from The Washington Post. The authors found that while age seems important in theory, in practice, the age difference isn't as important as other considerations, including physical attraction and compatible personalities. (Source: Mehta, V., "When It Comes To Dating, Do Age Differences Matter?" Psychology Today web site, August 19, 2013; http://www.psychologytoday.com/blog/head-games/201308/when-it-comes-dating-do-age-differences-matter.)
"One of the most well-documented and commonly held beliefs is that men prefer to be with younger women, while women prefer men who are older. Known as the 'age differential effect,' numerous studies have shown that men prefer to marry younger women and women prefer to marry older men," says Riya Beaumont, EarnTheNecklace.com's content editor. "According to the recent survey, compatibility and physical attraction are more important factors to a successful relationship than age is. This is an opinion that the experts at EarnTheNecklace.com have long held."
"When it comes to dating, age-gap stereotypes are less of a factor than maturity and compatibility levels are," she adds. "Successful relationships, regardless of age, are based on personality, values, and beliefs. That's the universal glue that keeps relationships together, and when that's present, issues with age just fade away."
Even though this study looked at just 347 blind dates, the results are revealing. Men don't necessarily date younger women because of an evolutionary trait; some are attracted to younger women because of compatibility, and vice versa. The experts at EarnTheNecklace.com are encouraged by these results and believe further ongoing research is necessary.
"This study goes against the commonly held notion that men are attracted to younger women because they are fertile or locked in a midlife crisis, and that younger women like older men simply because they have greater resources," Beaumont concludes. "The fact of the matter is that couples that share a large age gap are just as likely to be in a healthy relationship as anyone else, so long as they share common goals and values."
To learn more about Earn the Necklace, visit the web site at http://www.EarnTheNecklace.com. The site wants to hear from women dating or married to men 20 years or more their senior! And if it's a story they publish, they'll pay $500.00, with an opportunity to write more.
About the Web Site: Earn the Necklace (EarnTheNecklace.com) is a web site featuring stories written by women in relationships with much older men and who want to help other women in the same situation. The site helps women in this position understand and navigate the potential ups, downs, joys, trials, and even unforeseen consequences, all based on real-life stories from women who have been in the same situation. Plus, the web site offers other celebrity gossip and juicy stories, all geared to those who are in a relationship with a much older man.