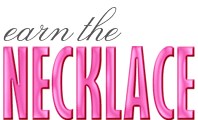 It takes a lot of effort and work to build a successful relationship.
New York, NY (PRWEB) September 07, 2013
EarnTheNecklace.com, a revealing and engaging web site with articles written by women who exchange their stories and confessions about being in a relationship with a much older man, is releasing its expert opinion on whether or not separating is a beneficial relationship strategy for couples with large age gaps.
Michael Douglas and Catherine Zeta-Jones, who have a 25-year age gap, recently announced they had temporarily separated and were taking time apart to evaluate and work on their marriage. While many have suggested separating could doom the relationship, the experts at EarnTheNecklace.com believe it can ultimately strengthen it. (Source: Hare, B., "Catherine Zeta-Jones, Michael Douglas separate," CNN.com August 29, 2013; http://www.cnn.com/2013/08/28/showbiz/celebrity-news-gossip/douglas-zeta-jones-split/index.html.)
"It takes a lot of effort and work to build a successful relationship," says Bianca-Marie Coventry, EarnTheNecklace.com's content manager. "That said, couples with large age gaps are more likely to face more nuanced issues about children, marriage, and intimacy, which can lead to other obstacles or disagreements."
Coventry explains that while it may seem counterproductive, couples that take a therapeutic approach to separation can take that time to both gain perspective on the marriage and actually enhance it. Rather than a means to an end, separation can be a helpful tool to staying together; this can be achieved if couples separate for the right reasons and set up clear boundaries.
"Unfortunately, when couples with large age gaps feel their relationship slipping away, they often try to overcompensate by trying to get as close as possible, hoping the marriage will just work itself out," Coventry adds. "Separating and assuming there are no challenges, such as a betrayal of trust, can be challenging, but, if done carefully, can be effective at bringing couples closer together."
The experts at EarnTheNecklace.com know there are a number of options available for couples with large age gaps who want to separate with the explicit intention of working on their relationship. For starters, couples need to get an objective, third-party perspective, on their relationship. This can be best achieved by talking to a registered therapist, psychologist, spiritual advisor, or mediator.
At the outset, it's important to set clear and reasonable ground rules. In an effort to maintain trust, Coventry concludes, it's important that both people know what to expect from each other and what is expected from them as individuals. Whether a couple is living together or separated, they need to both have the same goal.
"Further, being separated doesn't mean losing contact. As successful relationships are built on communication, it's never a good idea to cut off all contact," she says. "With this kind of separation, absence does not make the heart grow fonder. While there is no guarantee that even a well-intentioned separation can guarantee a couple with a large age gap will get back together, it significantly enhances the odds."
To learn more about Earn the Necklace, visit the web site at http://www.EarnTheNecklace.com. The site wants to hear from women dating or married to men 20 years or more their senior! And if it's a story they publish, they'll pay $500.00, with an opportunity to write more.
About the Web Site: Earn the Necklace (EarnTheNecklace.com) is a web site featuring stories written by women in relationships with much older men and who want to help other women in the same situation. The site helps women in this position understand and navigate the potential ups, downs, joys, trials, and even unforeseen consequences, all based on real-life stories from women who have been in the same situation. Plus, the web site offers other celebrity gossip and juicy stories, all geared to those who are in a relationship with a much older man.