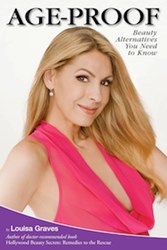 Louisa Graves continuously astounds me with her insightful and innovative approach to beauty problems. She never loses sight of the average woman and always provides user-friendly solutions that are affordable and effective.
Los Angeles, CA (PRWEB) October 15, 2013
World-class beauty expert and physician-recommended author Louisa Graves has an international following that includes doctors, aestheticians, magazine editors, journalists, celebrities, models, moms, baby boomers, and busy women on the go. Her newly released book 'Age-Proof: Beauty Alternatives You Need to Know' details innovative, never-before-heard of age-defying techniques. Graves is ahead of the curve, offering head to toe tips—unique, natural remedies—that are easy to achieve and can address almost any beauty challenge. She is a self-defined "ingredient sleuth" and has uncovered some of the most powerful—and affordable—products on the planet (many of which can be found in the medicine cabinet or kitchen cupboard). No over-priced skin care, costly lasers or doctor treatments required. Her fresh solutions are highly respected by many medical professionals and have been tested and proven by her loyal customer base.
'Age Proof' is a comprehensive and detailed guide—not your typical self-help anti-aging book—in which Graves provides a variety of clever age-proofing tips that teach women how to look and feel fabulous at any age and on any budget. She covers a lot of ground including: easy-to-follow skin care regimens, brain boosters and good mood foods, tips for successful sleep, DIY beauty recipes and home remedies, affordable and potent skin care products that cost a fraction of doctor brands, as well as red light therapy and vibration plate technology. Graves also includes some eye-opening facts that can help women avoid toxic skin and body care products, as well as harmful foods and household cleaners. In addition, Graves provides healthy, low glycemic recipes, snacks, and delicious gluten-free choices. A resource guide at the back of the book details a well-developed list of safe, effective face and body products and where they can be purchased.
Graves is a celebrity body parts model in Hollywood whose picture-perfect hands and parts have doubled for hundreds of actresses and models in over 1,000 television shows, commercials and movies. She is a sought-after, seasoned beauty expert who is often a guest on TV and radio where she is asked to share her expertise about non-invasive age-proofing solutions. Supervising Producer Derek C. at CBS's The Talk says, "Louisa Graves continuously astounds me with her insightful and innovative approach to beauty problems. She never loses sight of the average woman and always provides user-friendly solutions that are affordable and effective."
Doctors often consult with Graves, as they've come to respect her approach and insight. "It is clear that Louisa's range of expertise is equal with that of many well-respected and knowledgeable practitioners in dermatologic skin care," says San Francisco physician Diana Tang, M.D. "I see Louisa as an indispensable partner to the doctor's work. Louisa's advice on beauty and age proofing is state of the art, accessible and sensible. I love the idea that Louisa can take natural everyday ingredients as well as scientific findings and blend them together for a unique range of non-invasive beauty and age proofing techniques. Medical professionals and the discriminating individual will find a wealth of well researched information, advice, and products when consulting with Louisa."
Feeling and looking great shouldn't have to break the bank. Louisa Graves leads the way to affordable, accessible and healthy beauty solutions with proven results.
'Age-Proof: Beauty Alternatives you Need to Know' is published by Archieboy Holdings LLC and available at all major bookstores and popular online retailers—in paperback and ebook version—including Amazon.com, Barnes & Noble, and Apple's iBookstore. The softcover book can also be purchased at a special introductory price from the author's website, HollywoodBeautySecrets.com. Five percent of all October book sales will be donated to Breast Cancer Research.
Author Louisa Graves is available for television appearances, as well as radio shows and interviews. Producers and other media representatives may contact:
Barbara Adolph
National PR Pros
baprpro(at)gmail(dot)com
818-404-5172
About Louisa Graves
Louisa Graves has appeared on many national television shows including The Talk, Extra, and The Doctors, and over 500 terrestrial radio interviews including on WGN, KIIS-FM, and Sirius XM Doctor Radio. Louisa has appeared on the cover of Woman's World Magazine and is also featured regularly in their "Ask America's Ultimate Expert" column. She is a beauty advisor and has been featured in FIRST for Women Magazine. In addition, Louisa has also written columns for AOLJobs /Huffington Post Media Group and for Bridal Fantasy Magazine. Her tips have been featured on MSNBC.com, WomansDay.com, AOLHealth, RadarOnline.com and SheKnows.com, to name a few. Louisa's YouTube page has had over 1,000,000 views and thousands of professionals and private individuals subscribe to her newsletter. Louisa is also the author of the popular bestselling book 'Hollywood Beauty Secrets: Remedies to the Rescue'. For photos, video clips and more about the author, please go to http://www.hollywoodbeautysecrets.com/Louisa.htm.
###