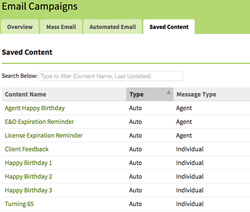 Email is a key communication tool with today's modern consumer, but quality, personalization and timeliness is vital.
Cedar Falls, IA (PRWEB) June 29, 2016
AgencyBloc, an agency management system/CRM built specifically for life and health insurance agencies, has released pre-formatted email content templates to enhance their existing marketing automation functionality. In addition to the new template library, users can also create and save their own email templates. This enhancement was frequently requested by AgencyBloc users and increases the efficiency and value of their marketing automation tools.
Today, 72% of consumers prefer to communicate via email when it comes to promotional messages or client updates (MarketingSherpa). For busy insurance agents to provide an excellent experience for their clients and prospects, the ability to quickly create and automate communication with them becomes incredibly important.
"Email is a key communication tool with today's modern consumer, but quality, personalization and timeliness is vital," says Erica Kiefer, VP of Sales and Marketing at AgencyBloc. "If you are not adding value or creating a positive emotional response, you are simply creating noise and will likely be eliminated from the inbox. Our new content templates combined with variable data, personalization and automated email campaigns creates enormous efficiency for the agent while supporting the agent-client relationship."
When the #1 reason clients leave insurance agencies is due to lack of communication, providing multiple channels to make these touchpoints is key. David Newman, marketing expert, says, "Email has an ability many channels don't: creating valuable, personal touches – at scale." With AgencyBloc's Marketing Automation, which includes industry-specific email templates, insurance agencies are able to maintain personalized communication without hours of work.
The goal of AgencyBloc's Marketing Automation feature is to provide the necessary tools for insurance agencies to quickly create and send important messages to their clients and prospects. Email templates that AgencyBloc provides at no additional cost include:

General well-wishes like "happy birthday" and "happy holidays"
Client-focused communication like welcome messages, policy renewals, cross-selling campaigns, application status, open enrollment reminders, and turning 65 information
Agent-related communication like E&O expiration notices and license renewal reminders
With these templates, agencies can take the information and send as-is, or edit the template and save as a copy. Users are also able to create their own saved content within the email builder to use again, like a signature or table of product or carrier information. Using variable data, AgencyBloc makes personalizing the emails easy with fields like the recipient's first name, last name, policy number, policy renewal date, agent contact information and more.
AgencyBloc strives to help life and health insurance agencies grow their business by organizing and automating their operations using a combination of an industry-specific CRM, commissions processing, and integrated marketing automation.
To learn more about AgencyBloc's Marketing Automation and these templates, schedule a 1-on-1 demo to speak with a representative about your agency's specific needs.
-----------------------------------------------
About AgencyBloc: AgencyBloc is an agency management system with marketing automation capabilities built specifically for life and health insurance agencies. For more information, contact AgencyBloc at 866-338-7075 or info(at)agencybloc(dot)com.