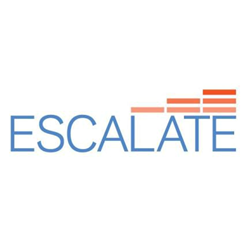 In addition to the new physical space, a new digital home for the agency also debuted this week. Visit www.escalatenow.com.
New York, NY (PRWEB) July 01, 2014
Abe Sorcher, Co-Founder of Escalate, announced today that his 60 person staff has reunited under one roof for the first time since Superstorm Sandy flooded them out of the 110 Wall Street office building more than a year and a half ago. The independent experiential and word-of-mouth marketing agency, which attracts clients eager to engage directly with consumers through memorable interactions in the world and on-line, now enjoys a unique creative space in the historic Hanover Square, located within the financial district of lower Manhattan.
"I am so proud of the Escalate team and our city today," said Sorcher, who founded Escalate in 1999 with business partner David Hazan. "We never missed a beat and continued to go above and beyond with the usual Escalate enthusiasm and sense of adventure, even while we worked in various temporary spaces. We want to thank the City of New York and Brookfield Office Properties, who generously provided temporary office space for businesses displaced by Sandy. Today, we celebrate the next chapter of the Escalate story as we officially open the doors of our new home in Hanover Square...with plenty of room to grow."
"5 Hanover is the creative hub for the high-performing Escalate team. The new space expresses our culture, in which client satisfaction, employee engagement, and collaboration are everyday motivators for success," said Stuart Sheldon, Co-President and Chief Advocacy Officer.
"There is a wealth of culture in the financial district," said Erin Dempsey, Senior Production Director at Escalate. "This neighborhood has triumphed over a great deal. From September 11th to Hurricane Sandy, we as New Yorkers have formed a strong emotional connection to the FiDi. As a team, we derive inspiration from the history and diversity of experiences here: the vibrant energy of the New York Stock Exchange; the clipper ships of South Street Seaport; the historic taverns and notable eateries of Stone Street; and, now, the 9/11 Memorial and the Freedom Tower. We are proud to call the FiDi our home."
In addition to the new physical space, a new digital home for the agency also debuted this week. The re-launched web site provides an engaging, user-friendly experience and improved navigation for audiences on any device to connect and learn more about Escalate culture, clients, and work. Visit http://www.escalatenow.com for more information.
ABOUT ESCALATE
Founded in 1999 with the mission of escalating customer relationships to the point of brand advocacy with measurable results, Escalate brings unique thinking to the brand-consumer relationship one experience at a time. By creating engaging, immersive interactions that resonate with consumers long-term, Escalate has helped millions of people fall in love with great brands, including Birds Eye, Coca-Cola, Cox Communications, Royal Caribbean Cruise Lines, The American Legacy Project, and Verizon FIOS. Based in New York and Atlanta, Escalate is independently owned and operated. http://www.escalatenow.com.
###